In 2020, DSC Dredge's Marlin Class Dredge was the company's most purchased and sought after making it DSC's top produced dredge for the year. Why? The Marlin Class underwater pump mining dredge is designed to meet the needs of deep mining applications and aggregate deposits by providing a more efficient tool for material excavation.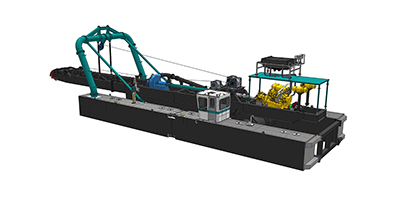 From inception, DSC prides itself in customization along with providing its clients with the right choice of dredge for their needs. As a result, DSC builds each Marlin to the exact requirements of a particular operation, with quality in design to handle a particular deposit – from sand and gravel to industrial minerals – to ensure its maximum efficiency.
The Marlin's deep digging capability is made possible by the use of an underwater pumping system with a high-torque cutter drive assembly to complement the rigorous demands of the deep mining industry. Digging depths range from 35 ft. [10 m] to more than 200 ft. [61 m]. Discharge sizes range from 8 in. [200 mm] to more than 24 in. [600 mm] to allow for a wide range of production and flow conditions to match specific mining operations.
Currently under construction and coming available mid-2021, is DSC's newly designed 14-in. [350-mm] single-engine Marlin Class underwater pump mining dredge equipped with a 1,125-hp [839-kW] diesel engine. The newly designed Marlin dredge will have a 65-ft. [19.8-m] dredging depth capability, but the most talked about improvement is that it is now completely transportable via both trucks and intermodal shipping containers thus making freight cost efficient.
In addition to premium features that already maximize operational efficiency, every Marlin Class Dredge can also incorporate all of DSC's newly released technology including DSC Vision and Dredge Rx.
While the Tier 4 engine is a new design, the Marlin Class dredge is still available with lesser Tier engines. As a result, the Marlin Class dredge can now be utilized by dredge owners and operators worldwide.
DSC Dredge, www.dscdredge.com