During The Pandemic, Lehigh Hanson's Lithonia Quarry Adjusted Its Approach But Continued Its Relationship-Building Efforts.
By Therese Dunphy
Good Neighbor: Lehigh Hanson Inc.
Operation: Lithonia Quarry.
Community Impact: The operation honors first responders and leverages virtual educational opportunities.
---
For the last four years, Lehigh Hanson's Lithonia Quarry has made a conscious effort to increase its outreach with the surrounding community. From donating gravel to improve roads in a local cemetery to inviting the new mayor to visit the plant as it celebrated a zero-citation MSHA inspection, it strives to be an active and positive member of the community.
Like many of its peers, the operation has had to adapt its approach to community outreach during the COVID-19 pandemic but continues to find creative ways to engage community groups and share the message of career opportunities within the aggregates industry.
Recognizing First Responders
For several years, the operation has hosted an annual First Responders Appreciation Luncheon. Chris Edwards, assistant plant manager, said the recognition is the brainchild of Plant Manager TJ Stinchomb. "He really wanted to do something to show police officers and the EMTs in the area our appreciation," Edwards said.
Last fall, the quarry invited members of the DeKalb County Police Department East Precinct, the DeKalb County Fire Services Station 14 and the City of Lithonia Police Department to attend a thank-you luncheon. To keep attendees safe, the event was moved outdoors and social distancing was observed, while boxed lunches were provided.
The event frequency has been increased to a quarterly lunch during recent months. "With everything that's going on with first responders and law enforcement, we just really wanted to reach out and show them that we appreciate them," Edwards explained. "We have a good relationship with the major over at the precinct and are actually looking at the possibility of them doing some rescue training at the quarry, so if we ever have an emergency here, they know the site. It's a win-win to have that kind of relationship with the local responders."
Working With Educators
Several years ago, the Lithonia Quarry also established its first school partnership with Flat Rock Elementary, which is near the operation. One early effort was to work with its customers and vendors to provide bicycles that were used as incentives for growth in a school literacy program.
"That's what got us kicked off with education. From there, we started partnering with other schools and bringing in third graders for tours," Edwards said. In Georgia, third graders study geology, so they earn "junior geologist" certificates at the end of the tour.
Tours haven't been an option during the pandemic, but Edwards hopes they can return in spring 2022. In the meantime, the quarry has donated hand sanitizers, hand wipes, and face masks to the school.
Fostering Interest in the Industry
During the last year, Edwards has worked with youth-based programs and shared his own story. In high school, he was a highly recruited athlete and attended Georgia Tech on a football scholarship but made choices that resulted in him not finishing school and missing out on a potential NFL career.
"I made some mistakes and missed out on those opportunities," he said. "I went through a rough patch for a few years, and eventually ended up with Hanson. With the support here and having a decent career, things really turned around for me."
Edwards now serves as mentor with the DeKalb County Youth Build program, which provides skills training and work experience for at-risk area youth. He also was the keynote speaker for the virtual graduation ceremony for students in the Fast Track Welding Program at the Department of Corrections State Transition program.
"I tell them that we will be losing about half the workforce in the next five to 10 years," he said. "I say it's a big industry, but at the same time a small industry. You really get to build relationships with people throughout the industry and throughout the company. I think it's life changing."
---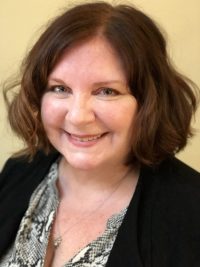 Therese Dunphy has covered the aggregates industry for nearly 30 years, while also serving multiple roles as a public official. As the owner of Stone Age Communications, she provides communications consulting services to help aggregate producers build stronger relationships within the communities they serve. She can be reached at [email protected].