Commitment To Service, Production And The Right Rental-Equipment Mix Draws Quarry, Mining And Construction Customers To A California Dealer.
By Mark S. Kuhar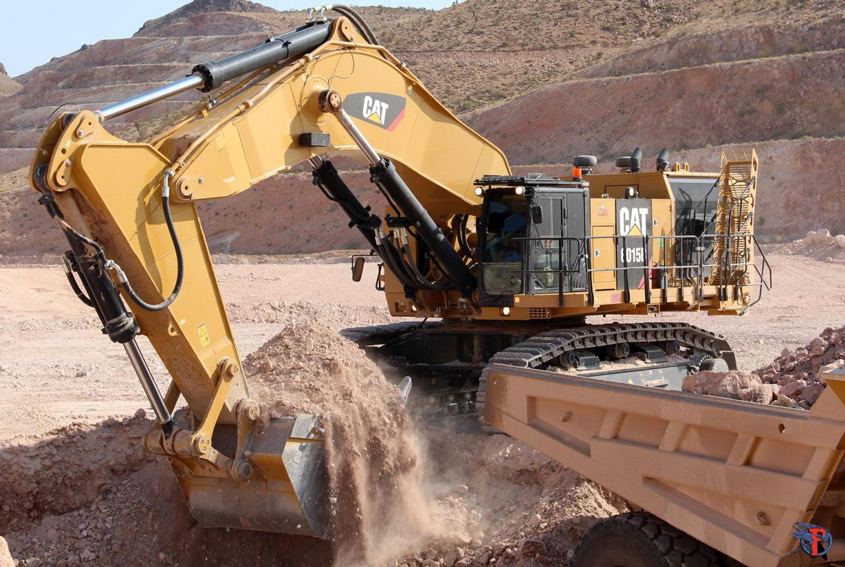 "We are the easy button for our customers," said David Peed, Peed Equipment Co. president, when describing the company's heavy earthmoving equipment-rental business. With a mission statement of "customer service, customer service, customer service," Peed Equipment, Temecula, Calif., got its start nearly 40 years ago in Chandler, Ariz., when Dennis Peed, David's father, started rebuilding and remarketing Cat D9H dozers. "They were remarketed as a bullet-proof D9," recalls Peed. Over the years, the company has sold more than 250 rebuilt dozers.
Until the early 2000s, the company's focus remained on dozers along with a fleet of Cat 631 scrapers. Upon his father's passing in 2006, David Peed continued with this narrow rental equipment offering. That was until the Great Recession made him reevaluate this focus.
"During the recession, I saw us as a single-focus company with a significant fleet of dozers and scrapers," said Peed. So, the company significantly transformed its business model to include additional rental equipment and expand into different markets, gravitating toward the mining sector. Today, the company offers certified operators and mechanics to complement its broad heavy equipment rental offering.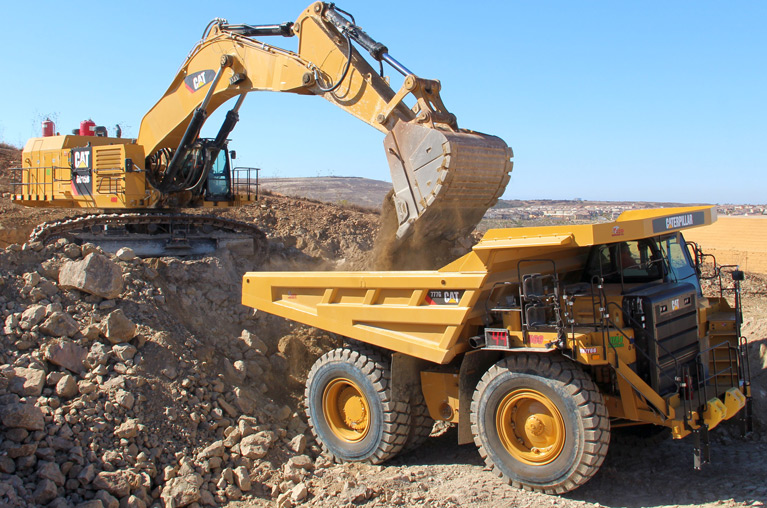 Expanded Offering
Over time, the rental offering grew to include excavators, articulated and off-highway trucks, motor graders, wheel dozers and loaders and water trucks. While expanding the range of equipment, the company stayed focused on the brand. "We carry only Cat equipment because of durability, reliability and parts availability. The great thing is I can be working in the middle of Nevada, Texas or Georgia, and there will always be a Cat dealer like Hawthorne nearby," said Peed.
The depth of stocked equipment is not just one or two pieces of each model. Peed Equipment has amassed a sizeable fleet, enough to supply customers from coast to coast and north and south of the U.S. border. "Peed Equipment is heavy into the scraper market. They have 65 Cat 657 scrapers alone," mentions Steve Rich, sales representative for Hawthorne Cat, a Caterpillar equipment dealer with headquarters in San Diego, Calif.
Offering a range of options for customers, Peed Equipment today rents machines for all project sizes but often the rentals gravitate toward jobs that measure material movement in the tens of millions of yards of rock and soil. Projects where machine uptime availability is critical such as coal and precious minerals mining, levee work, landfills, energy, industrial sites, dam projects and highways.
"People say they offer service, but no other rental company touches what Peed Equipment delivers. Uptime is key, and it's incredible what the company does," said Rich.
Peed added, "We have transmissions, engines, differentials, pumps and cylinders on the ground, so a machine issue can be fixed within hours, not days or weeks. If a machine goes down, we will have a spare to plug in place until the machine is back in service." If, by chance, the part is not on-site, Peed Equipment relies on Hawthorne and other Cat dealers to get the machine back into rotation.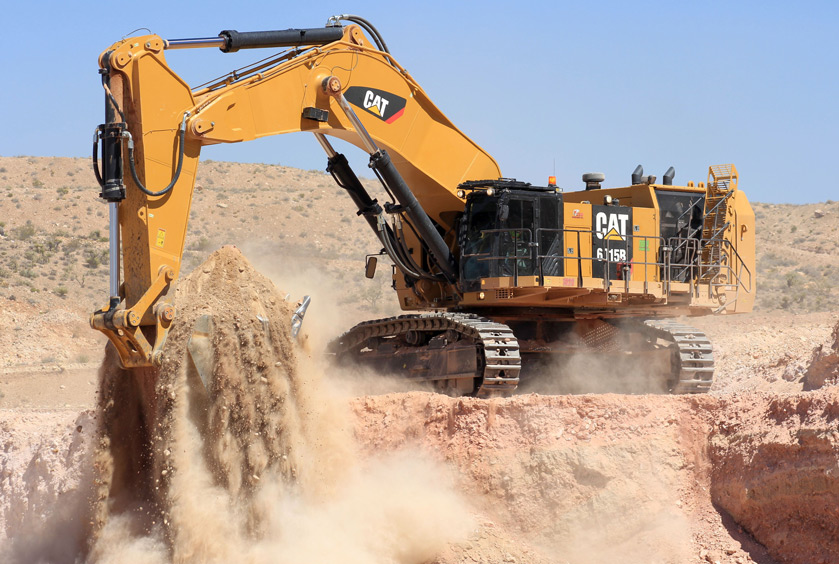 Production Pass Matching
Over the years, Peed has learned certain applications call for a specific piece of equipment that requires both weight and horsepower to deliver productive operation. Often, contracts for these jobs range from six months to several years. Production targets are established by contract, and it's not a matter if they can be met but how and when they will be met, with penalties for not delivering. The equipment is often working six to seven days a week in the most extreme applications.
For these jobs, Peed Equipment has one more loading tool in its arsenal, the hydraulic mining shovel. Early into its quarry and mining expansion, the company used Cat 5130 shovels. The 200-ton loading machines were powered and built to withstand the challenging conditions of drill-and-shot as well as hard rock excavation applications. "You must realize that what we call dirt in California, other people call hard rock. What we call hard rock, others call impossible," offers Rich.
Within the last year and a half, Peed Equipment has upgraded its shovel fleet to include three Cat 6015B hydraulic shovels. While a bit slimmer than Peed Equipment's previous shovel fleet at 154-tons, the 6015B offers significant advantages in productivity, reliability and transportability.
"In addition to its industry-leading productivity, the 6015B is versatile enough to work across a full spectrum of applications, including quarry and aggregate, mining, heavy construction and various industrial applications," commented Kylie Scott, mining industry representative for Caterpillar. "This is why the 6015B is an ideal choice for contractors such as Peed Equipment Co."
One of Peed Equipment's 6015B shovel rentals with operator and mechanic is fulfilling a multiyear contract at a gold mine. Paired with six Cat 777G off-highway trucks, the 6015B is loading the muckpile from drilling operations into the trucks, which haul the material to a leach field for unearthing the valuable mineral.
The shovel must work six days a week, 10 hours a day to meet production targets established in the contract. "We typically set a target of 1,000 yards per hour of material moved, depending on the material, with our 6015B shovels," said Peed.
The shovel gives Peed Equipment a 6-7 pass-match with the 98.4-ton 777G trucks. While it has a slightly less nominal payload than the larger 5130, Peed has noticed a decrease in truck loading time. "The 6015Bs are sleek and very quick compared to other shovels," he says. "They offer the same 6- to 7-pass loading as our 5130s, but the trucks are loaded in half the time."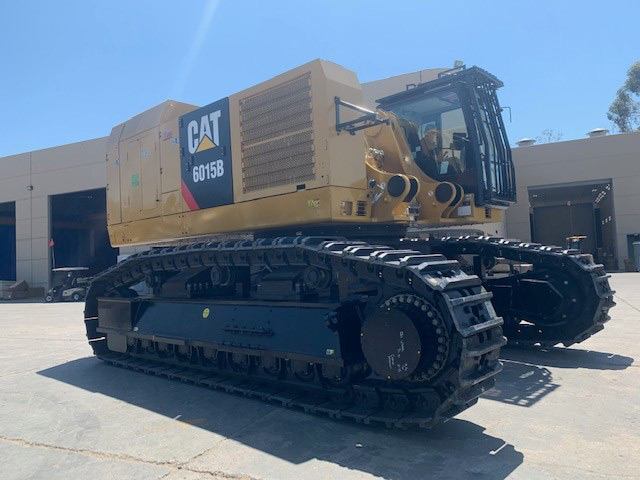 Proven in heavy construction, mining and quarry applications, the 813-hp engine powering the 6015B and hydraulic system advancements aid in reducing load cycle times. Additionally, the new engine technology is more fuel-efficient, which has helped to significantly lower shovel operating costs. "It's a world of difference," said Peed. "On average, the 5130 burned about 28 gallons per hour, but we are using only 19 gallons per hour with the 6015B, which is a huge advantage."
Also important for Peed Equipment, the C27 engine meets U.S. EPA Tier 4 Final emissions standards with a non-selective-catalytic-reduction (SCR) solution that is maintenance free and does not require diesel exhaust fluid (DEF). Operating a large fleet acquired over many years, machine engine technologies vary as do emissions regulation compliance. However, the company has made a concerted effort, through new equipment acquisitions and engine upgrades during rebuilds, to upgrade most of its fleet to meet Tier 4 Final standards.
"In California, many projects today specify equipment meeting Tier 4 Final standards as part of the bid," said Rich. Peed agrees and adds, "We are working hard to have more Tier 4 Final engines across our fleet. Currently, more than 60% of our machines meet the latest emissions standards, and with the help of Hawthorne, we are projected to be at more than 80% by the end of the year."
Go Anywhere
While the 6015B gives Peed Equipment the weight and horsepower needed to keep up the production schedule at the gold mine, the company does not limit the shovel to mine and quarry work. As with the other equipment, the shovel is transported to where the work is, so it is used on a range of heavy civil projects from dams and power plants to large commercial and housing developments.
"It's a big tool, but it breaks down pretty easy," explains Peed. "Using a small assist crane, we can disassemble it in one day, transport it in six loads and reassemble it in a day. It doesn't take much longer to break down and move than our large excavators." Rich adds, "There are lighter shovels on the market that can be shipped in fewer loads, but they don't offer the production or the longevity in difficult applications that the 6015B does."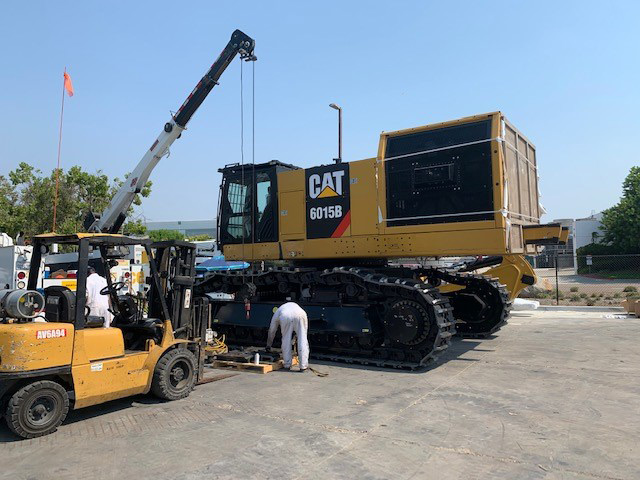 Peed Equipment's other two hydraulic shovels are currently working on multi-month rental contracts for large housing developments in Chula Vista and Fallbrook, Calif. These projects require the shovels' power to break through bedrock materials. "What's mainly left for development in California is rock, and, as I said, what we call rock others call impossible," says Rich. "So Peed Equipment needs the 6015B for durability and power."
The 6015B delivers the required digging forces to efficiently break through the rock, and its bucket, size-matched to the shovel, and ground engaging equipment are designed for high production and durability with replaceable wear protection. Both shovels are paired with 777G off-highway trucks. "On one of the projects, we are hauling the rock to a quarry to be crushed and the aggregate reused on the project," said Peed.
From gold mining to housing development in hard rock, the 6015B hydraulic shovels are delivering on the promised target production levels for Peed Equipment. "We don't get a pat on the back when we deliver what is expected of us, but our customers keep coming back," he said, so Peed Equipment's machines get to spend another day in the dirt.
Information for this article courtesy of Caterpillar.