Ben R. Rechter, long-time resident of Nashville, passed away on May 7 at the age of 83. Rechter was one of the third-generation owners of Rogers Group Inc. – the family business established by his grandfather in 1908 – that has grown to be the largest privately held aggregates company in the United States.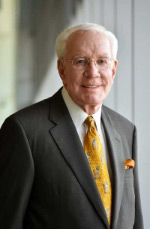 For almost 50 years, Rechter was an integral part of the fabric of the Nashville community. He served on many boards, working to improve his community and the lives of those around him.
"On behalf of the aggregates industry, we at The National Stone, Sand & Gravel Association express our sincere condolences to the Rechter family," the association said in a statement.
Over the span of nearly 50 years, Rechter was well known for his dedication to the Nashville community. A true visionary, he played an integral role in projects that helped shape Nashville into the city it is today.
In addition to serving on numerous boards, he worked behind the scenes and personally touched and impacted many lives. Some of the organizations and projects he was involved in included: Fisk University, United Way of Middle Tennessee, The Community Foundation of Middle Tennessee, Nashville Symphony, Nashville Public Television, and The National Museum of African American Music.
Rechter's wise counsel extended to both family and business, and for many decades he played a central leadership role at Rogers Group.
Most recently, he passionately dedicated his time and energy to the "We Are Nashville" project that is currently being revealed across the city.
Rechter is preceded in death by his father Ben W. Rechter and his mother Helen Rogers Rechter. He is survived by his wife Joan, brothers Sam and Rick Rechter, sister Pat Daugherty, stepbrother Jerry Neely, stepsister Sharon Douglass, sons Ben L. Rechter (Jamie) and Mark Rechter (Olivia) and daughter Jennifer Paisley (Eric), six grandchildren, and two great-grandchildren.