In This Quarterly Report, Provided Exclusively to Rock Products, Capstone Partners Offers Insight Into Merger and Acquisitions (M&A), Capital Markets Trends, Aggregate Production and Pricing.
By Darin Good, Brian Krehbiel and Crista Gilmore
While merger and acquisition (M&A) activity declined year-over-year (YOY) in 2020, transaction volume has rebounded in 2021 with industry participants actively reengaging in consolidation strategies. Capstone Partners anticipates robust M&A activity through 2021 as strategics look to bolster product offerings and geographic penetration and private equity firms seek enhancement to portfolio companies. Key industry takeaways are outlined below.
Construction demand has steadily improved with project backlogs, staffing levels, and profit margins demonstrating healthy increases.
Top public companies have experienced strong market performance with many trading near their 52-week high while EBITDA multiples have recorded significant growth YOY.
M&A activity has rebounded in year-to-date (YTD) 2021 with aggregates providers attracting elevated transaction multiples compared to recent years.
Interest rates remain very low and facilitate higher valuations and more favorable terms.
The probability of much higher income taxes is likely and is adding additional incentive to sellers to complete a transaction prior to Dec. 31.
Public Company Commentary
Public companies in the aggregates industry have demonstrated robust performance with many top players trading near their 52-week high share price. In addition, trading multiples have strengthened through YTD 2021 with the average EBITDA multiple increasing to 11.2x from 7.8x in the prior year.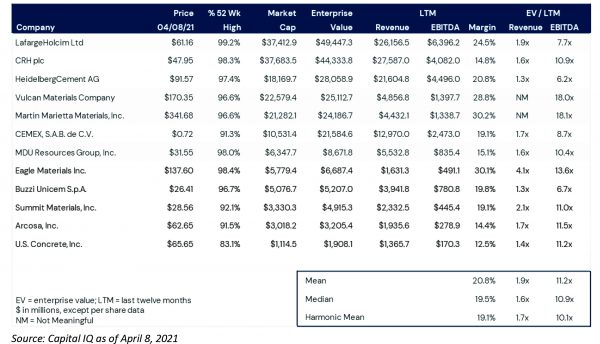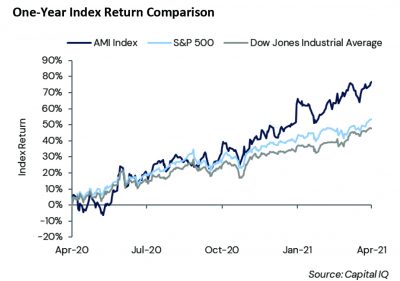 Aggregates Performance
Aggregates Materials Index: +76.8%.
S&P 500: +53.4%.
Dow Jones Industrial Average: +47.6%.
Capstone's Aggregates Materials Index (AMI) has recovered substantially from declines experienced early in the pandemic, with the index's return amounting to +76.8% over the past year, outpacing returns in the S&P 500 and Dow Jones Industrial Average. Aggregate materials providers are poised to continue the upward trend as the vaccination rollout progresses and economic conditions continue to improve.
Industry Outlook
The Aggregates industry has experienced a strong recovery in demand as improvements in construction backlog, profit margins and staffing levels bode well for heightened downstream activity. Elevated growth in the Nonresidential Construction segment has been supported by an increase in institutional projects entering the planning stage, evidenced by the 1.7% increase in the Dodge Momentum Index in March, which marks the measures' highest level since summer 2018.1
In addition, industry participants are leveraging greater backlog visibility as the Associated Builders and Contractors' (ABC) construction backlog indicator rose to 8.2 months in February, driven by strong gains in the Infrastructure segment.2 The improvement of the Construction Labor market adds to industry optimism, with the construction industry adding 110,000 jobs in March, having recovered nearly 84% of jobs lost earlier in the pandemic, according to ABC.3
Nonresidential Construction is expected to continue to see near term gains, largely driven by substantial investments in heavy industrial warehouses and data centers, which tend to be more aggregate-intensive projects, according to Martin Marietta CEO Ward Nye, in a recent Q4 2020 earnings call.4 Notably, private warehouse construction has experienced drastic increases in demand, with construction spending rising 44% in January from the prior month and continuing a strong pace of activity through February, according to the U.S. Census Bureau.5
In addition, the potential passage of a sizable federal infrastructure bill is forecast to provide significant growth opportunities to industry participants specializing in public infrastructure. In particular, the price and volume of aggregates stand to benefit, with forecasts for 5% growth pending the implementation of a sizeable bill, according to Moody's Investor Service.6
"Much of the stimulus to come will directly affect construction, particularly the heavy and civil engineering segment. While any infrastructure stimulus should be geared toward projects generating the highest rates of return and open to bids by all competent contractors, the sheer volume of money flowing into the economy is set to create massive forward momentum for the balance of 2021 and likely through 2022," commented ABC Chief Economist Anirban Basu in a press release.
M&A Overview
M&A activity fell 36% YOY in 2020 as industry participants focused on defending revenues and managing liquidity, placing many acquisition pursuits on hold. However, YTD transaction volume has demonstrated a resurgence with 23 deals announced or completed, a modest decline of 8% YOY. Public companies have actively pursued accretive acquisitions to expand product portfolios, improve margins, and generate cost synergies.
Notably, Arcosa has continued to scale its aggregates operations, most recently acquiring StonePoint Materials for an enterprise value of $375 million. Private strategic companies have continued to account for a majority of transaction activity in 2021, comprising nearly 55% of M&A volume.
The average transaction EBITDA multiple declined in 2020 to 8.0x from 8.6x as market pricing largely favored buyers amid a lower level of competition in deal processes. However, valuations have improved through the YTD, with the average multiple increasing to nearly 12x, creating a favorable transaction environment for businesses that have exhibited robust revenue growth with a favorable product mix. Capstone anticipates M&A volume will continue at a healthy pace through 2021 as economic conditions continue to improve and industry participants leverage greater near term revenue visibility.

Private Equity Activity
GF Data Resources, a provider of detailed information on business transactions ranging in size from $10 million to $250 million, provides quarterly data from more than 200 private equity firm contributors on the number of completed transactions. The following chart provides the number of completed transactions from GF Data contributors, the average total enterprise value (TEV)/EBITDA multiples, and the average amount of debt utilized in the transaction computed as a multiple of EBITDA. The data, although not industry specific, displayed a substantial recovery in transaction volume in Q4 2020, in addition to a rise in valuations with EBITDA multiples increasing to 7.0x from 6.7x.
Notable Transactions
Aggregates providers have quickened the pace of consolidation in year-to-date 2021, seeking to bolster product offerings, expand operations, and penetrate new geographies. Select notable transactions are outlined below, followed by a more comprehensive transaction list.
Arcosa has agreed to acquire leading aggregates producer StonePoint for an enterprise value of $375 million, equivalent to approximately 3.2x LTM revenue and 13.4x LTM adjusted EBITDA. StonePoint is one of the largest aggregates providers in the U.S. with 20 locations and approximately 9 million tons of annual production. StonePoint's aggregates business accounts for 80% of its EBITDA, with asphalt and other services comprising the remainder, according to a press release.7
Arcosa is a premier provider of infrastructure-related products and solutions to the Construction, Engineered Structures, and Transportation markets. The acquisition bolsters Arcosa's aggregates business and aligns with its strategy to enhance its current footprint and penetrate new geographies. The transaction is expected to be accretive to Arcosa's earnings and margins in 2021, and Arcosa expects a net present value of approximately $15 million of tax benefits over the next four to five years.
Quikrete has agreed to acquire all outstanding shares of leading manufacturer of water and drainage infrastructure Forterra for an enterprise value of $2.8 billion, equivalent to 1.8x LTM revenue and 10.2x LTM EBITDA. The purchase price of $24.0 per share represents a premium of approximately 38.5% to Forterra's 90-day volume-weighted average share price on Feb. 19, 2021. Forterra specializes in water-related infrastructure applications, including structural precast products. Forterra will become a privately held company upon completion of the transaction.
Quikrete is a premier, privately owned building materials provider offering products including packaged cementitious products, pavers, retaining wall systems, concrete pipes and masonry units. "Forterra and Quikrete are an ideal strategic fit, and this combination is a natural next step for our company, enabling us to better serve our customers across the company on their concrete projects from start to finish. We are excited to grow our capabilities in the potable water distribution market through Forterra's well-respected U.S. Pipe business," said Will Magill, CEO of Quikrete in a press release.8
Select Transactions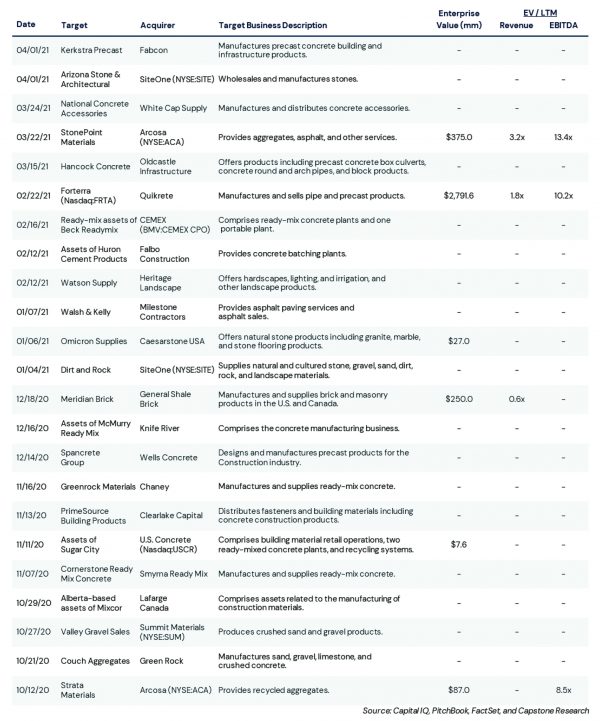 Company Spotlights

Arcosa showcased the resilience of its business model through 2020, with full year revenues increasing 11% YOY driven by strong performance in its Construction Product segment which reported 35% revenue growth and 50% Adjusted EBITDA growth, according to its earnings release.9
Arcosa also recorded margin improvements in the Construction Product segment with the acquisitions of Cherry and Strata Materials contributing to its operating results. While Arcosa recorded a 2% revenue decline in its Engineered Structures segment, demand remains healthy, fueled by increased spending on electrical transmission, telecom, and traffic infrastructure.
"We're encouraged by the pickup in demand at some of our specialty materials business that were more impacted by COVID, as construction delays have subsided and customers have looked to replenish low inventory levels. While there is some COVID-related uncertainty on the balance, demand has improved. The potential for a new long-term highway bill with spending above FAST Act levels or a federal infrastructure bill would be additive to our segment outlook," commented President, Chief Executive Officer and Director Antonio Carrillo Rule, in an earnings call.10
Arcosa has experienced robust EBITDA multiple expansion over the past year, trading at 11.3x as of April 2021. It expects to achieve full year 2021 revenues of $1.78 billion to $1.90 billion with Adjusted EBITDA of $250 million to $270 million. However, its Transportation Product segment is expected to continue to encounter significant headwinds as COVID-19 has negatively impacted the Barge industry.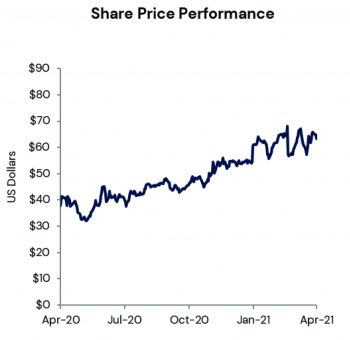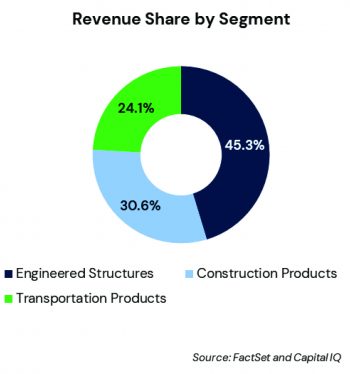 CEMEX achieved a 9% increase in consolidated net sales in Q4 2020, largely driven by higher volumes in the United States, Mexico and its Europe, Middle East, Africa, and Asia regions, according to its earnings release.11 In addition, Cemex managed to improve operating EBITDA in Q4 by 19% on a like-for-like basis.
Its United States sector experienced robust growth in Q4 2020 with cement volumes increasing 15% and ready-mix and aggregates rising 6% and 7%, respectively. In Cemex's Europe region, cement and ready-mix volumes declined 2%, although aggregates experienced a 2% growth YOY.
"Fourth quarter single-family permit data up 25% year-over-year, gives us confidence that the strength in housing is sustainable in 2021. We expect infrastructure activity to be stable. Federal government funding for highways and streets is unchanged with the recent extension to the FAST Act, while state DOT budgets in our footprint are slightly higher year over year. We are optimistic about the prospects of a Biden infrastructure stimulus plan and the potential for the first significant increase in federal transportation funding in over a decade," commented CEO Fernando Gonzalez in an earnings call.12
CEMEX has experienced strong public market performance in the YTD, with its stock price rising nearly 37%. It anticipates 2021 EBITDA to be approximately $2.7 billion on a like-to-like basis, supported by forecasted growth in volume among its three core product offerings. In addition, CEMEX plans to continue to invest in bolt-on acquisitions to bolster its main business segments.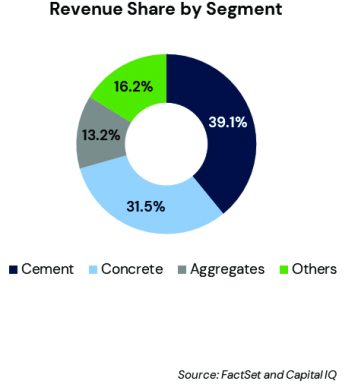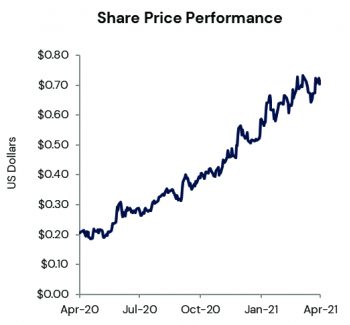 Construction Materials Update
Construction input prices increased 2.1% in February compared to the previous month with YOY prices increasing 7.6%, according to an Associated Builders and Contractors (ABC) analysis of data recently released by the U.S. Bureau of Labor Statistics.13 Lumber prices are a result of scarcity in supply, while natural gas prices are a result of the current administration's unfavorable view of fossil fuels. Most other price increases are a result of the substantial levels of monetary and fiscal stimulus.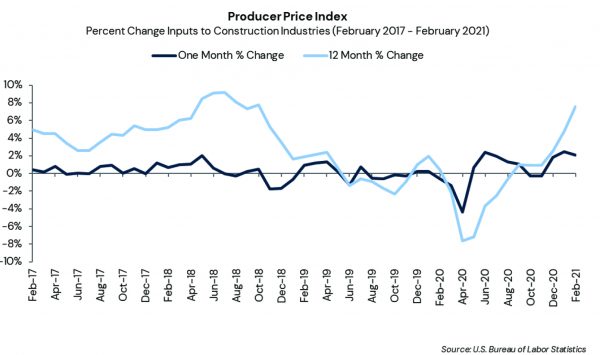 Aggregate Materials Update
Aggregate materials production remained robust in 2020 with yearly gains experienced in cement and ready-mix. In addition, industry pricing has demonstrated growth with all aggregates materials recording an increase in 2020 compared to the prior year.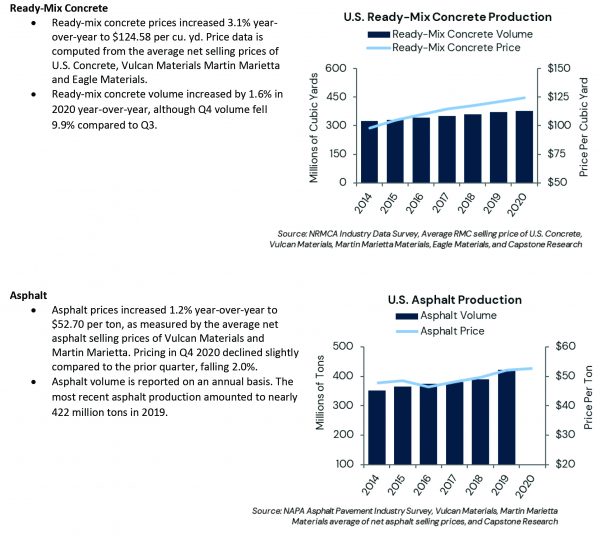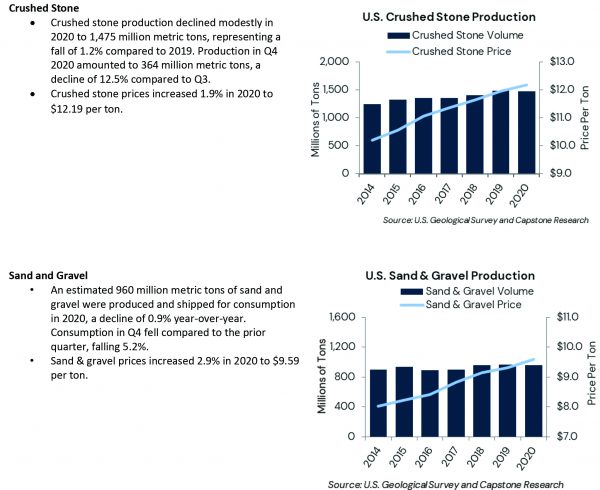 Capstone's Building Products & Construction Services Team advises industry business owners, entrepreneurs, executives, and investors in the areas of M&A, capital raising, and various special situations. Due to its extensive background and laser focus within the industry, Capstone is uniquely qualified and has an unparalleled track record of successfully representing Building Products & Construction Services companies. For more information contact Darin Good at [email protected], Brian Krehbiel at [email protected] or Crista Gilmore at [email protected].
---
Endnotes
---
Disclosure
This report is a periodic compilation of certain economic and corporate information, as well as completed and announced merger and acquisition activity. Information contained in this report should not be construed as a recommendation to sell or buy any security. Any reference to or omission of any reference to any company in this report should not be construed as a recommendation to buy, sell or take any other action with respect to any security of any such company. We are not soliciting any action with respect to any security or company based on this report. The report is published solely for the general information of clients and friends of Capstone Partners. It does not take into account the particular investment objectives, financial situation or needs of individual recipients. Certain transactions, including those involving early-stage companies, give rise to substantial risk and are not suitable for all investors. This report is based upon information that we consider reliable, but we do not represent that it is accurate or complete, and it should not be relied upon as such. Prediction of future events is inherently subject to both known and unknown risks and other factors that may cause actual results to vary materially. We are under no obligation to update the information contained in this report. Opinions expressed are our present opinions only and are subject to change without notice. Additional information is available upon request. The companies mentioned in this report may be clients of Capstone Partners. The decisions to include any company in this report is unrelated in all respects to any service that Capstone Partners may provide to such company. This report may not be copied or reproduced in any form or redistributed without the prior written consent of Capstone Partners. The information contained herein should not be construed as legal advice.