Doosan Infracore North America LLC, is launching its next-generation wheel loaders, the -7 Series, in the United States. and Canada. All-new redesigned cabs with first-class comfort features, increased bucket capacities and new, fuel-saving technologies are highlights of this next generation of Doosan wheel loaders.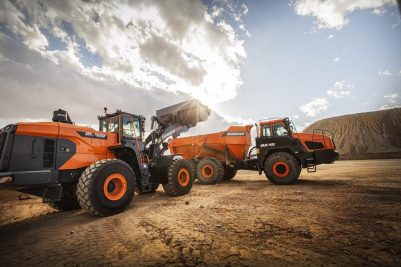 Seven models of the new Doosan -7 Series wheel loaders, with standard bucket capacities between 3.7 and 7.6 cubic yards, are available now. Five additional Doosan models with bucket capacities between 2.6 and 3.3 cu. yd. are planned to launch in early 2022. Wheel loaders launching in 2022 will include the popular tool carrier iterations for two models.
A new, award-winning exterior design is likely the first feature customers will notice about the Doosan -7 Series wheel loaders. The completely redesigned, more comfortable cab is a close second.
The new wheel loader cab layout has relocated important and frequently used controls for easier, more intuitive use. All Doosan -7 Series wheel loaders have the same control setup, so operators won't miss a beat when moving from machine to machine.
Bucket capacities for select models are 7% greater than prior models. These select Doosan models include the DL320-7, DL380-7, DL480-7 and DL580-7. The increased capacity can provide faster, easier loading in fewer passes.
Doosan Infracore North America, na.DoosanEquipment.com