AIRMATIC's Workmaster now offers a hopper car gate opener that's both portable and powerful for customers who need a lower-cost way to increase safety and productivity at their unloading sites.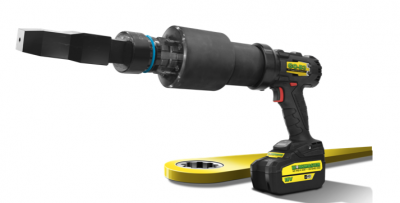 The Workmaster GO-B3 Hopper Car Gate Opener is a unique, handheld, battery-operated railcar gate opener.
"It's a torque multiplier tool so it doesn't impact – and it has a 24-in. torque reaction arm to easily and safely accommodate for the torque reaction," said Bob Braun, AIRMATIC sales director and Workmaster product manager.
The opener is very portable because it's small and compact at only 30 lb. However, it can produce a torque output of up to 3,000 ft.-lb. It's also battery-operated, so there is no cord and no air to be concerned about. It's also virtually maintenance-free.
The GO-B3 is meant for small to medium operations where there isn't a large volume of hard-to-open railcar gates in a typical day or week. "If you want to get something that's going to be powerful and convenient, this is a good tool to invest in," said Braun.
"When people want to invest in a gate opener, they want to invest in getting the most safe and ergonomic option they can find for the budget they have available. This is a low-cost way to get something that's more convenient [than opening by hand]."
The GO-B3 is suited for the frac sand transloading, fertilizer transloading, and de-icing salt industries.
Airmatic, www.airmatic.com