ESCO Track Pro from Weir Group's ESCO Division, an asset-tracking system for mining and infrastructure applications, now features global location monitoring via satellite and cellular networks. ESCO has also engineered a new steel housing to help protect the tracking devices in harsh industrial and commercial applications.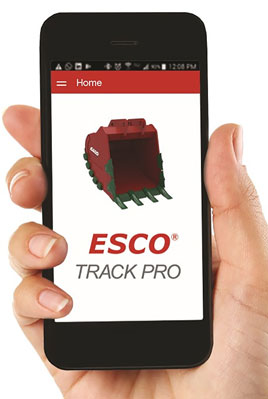 "We saw an exciting opportunity for Track Pro to provide a wider range of businesses with a global asset tracking solution that is built to withstand challenging applications and extreme operating conditions, like weather, high impact, or high vibration applications," explained Arun Kesavan. director of smart products.
As an expansion of the smart products portfolio from ESCO, Track Pro was originally developed as a tracking system for equipment dealers and rental companies, to help manage the fleets of ESCO mining and construction buckets and attachments stored in their stockyard.
The upgraded ESCO Track Pro system retains all of the original functionality, while expanding its capabilities to better serve a broader user base and locate a wider variety of assets – regardless of whether they are located in the stockyard or spread out across multiple worksites or countries.
"With our expanded range of heavy-duty tracking devices, more businesses can utilize ESCO Track Pro to monitor the location of their assets, inventory, or equipment almost anywhere in the world," said Kesavan.
When installed on an ESCO bucket or attachment, users can utilize additional features to identify spare part numbers and even generate a shopping list that can be emailed directly to a local ESCO dealer.
Consisting of a desktop portal, Android and iOS mobile apps, and rugged tracking devices that are affixed to the users' assets, Track Pro saves time and reduces paperwork by providing a centralized digital database of all their assets for instantly locating and utilizing equipment. Included is the feature to record asset conditions with uploaded photos during check out and check in of equipment and the ability to store maintenance and other related documents.
With the cellular or satellite coverage devices, Track Pro includes the ability to create custom geofences to help protect against equipment theft or misuse.
With more than 4,000 digging hours of testing and validation the new Nemisys Lip System for wheel loaders offers a distinct advantage for global mining operations.
Tooth System
The Nemisys tooth system from Weir's ESCO Division is a field-proven performer with installations on more than 500 machines worldwide. Initially developed for large mining shovels and hoes, the system is now configured for optimum performance on wheel loaders.
The Nemisys lip system features an integrated single-side lock for easier and faster removal to minimize machine downtime during maintenance cycles. The hammerless lock provides improved engagement with the nose to significantly reduce the chance of point loss and unplanned downtime.
Plate lip assemblies can be configured to meet customer requirements – available in 10- or 15-degree step spade versions. Adapter options are ESCO's T4 mechanically attached system or weld-on adapters. Both styles include a standard or super-duty wear cap.
There are three loader point options: general purpose that provides the best balance of penetration and weight; an abrasion/penetration style that provides excellent loading and long life in hard abrasive applications; and the ultimate abrasion point for maximum wear life in extreme abrasion.
The Nemisys components can also convert existing buckets to the premier ESCO system for exceptional performance and a lower cost of ownership over conventional lip systems, the company said.
Weir Group's ESCO division, www.esco.weir