McLanahan is an industry leader in creating complete wet-processing solutions to produce frac sand. In-house process engineers take each deposit's unique characteristics into account and work directly with customers to determine layout and equipment requirements.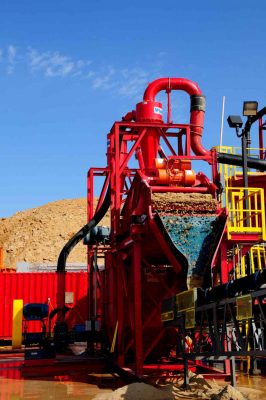 A major benefit of working with McLanahan is its in-house designed and manufactured equipment, which includes attrition cells, Hydrosizers, centrifugal pumps, Hydrocyclones and separators, dewatering screens, fine material screw washers, thickeners and filter presses.
McLanahan's process engineering team is regularly engaged by companies to audit competitor plants. Reviews like this provide insights based on our unique expertise, along with recommendations for process improvement. Often, the result of this is that any modifications and future plants are of McLanahan's design and supply.
Frac sand plants can be engineered in many configurations, including high-capacity multi-stage classification and long attritioning cycles, or the plants can be as simple as skid-based cyclones and dewatering screens making a 140 mesh cut.
The final design of a plant will depend on the nature of the deposit and desired products. However, these decisions can also be influenced by downstream processing in the dry plant.
Before making the investment in a deposit or plant, it is necessary to test the deposit to see if it meets the American Petroleum Institute's (API) requirements for frac sand. Examples of these requirements can include:
Silica content of 99% or higher.
Size fractions typically 20×40, 40×70 or 70×140.
Sphericity and roundness of greater than or equal to 0.6.
Low acid solubility – solubles (CO3, fsp) usually washed out in processing.

Less than 2%wt 6×12 to 30×50 mesh.
Less than 3%wt 40×70 to 70×140 mesh.

High crush resistance – can withstand compressive stresses of 4,000 to 6,000 psi, with resultant maximum fines wt%:

20%wt for 6×12 mesh.
14%wt for 20×40, 16×30 mesh.
10%wt for 30×50 mesh.
6%wt for 70×140 mesh.

Turbidity less than 250NTU – this is the amount of silt-clay sized minerals in sand that is usually washed out in the process, but occasionally needs attritioning.
If your sand has been tested by an accredited lab and meets the API frac sand requirements, McLanahan can begin designing your plant immediately. If your sand has not yet been tested, its in-house laboratory can perform sieve analysis, as well as attrition and turbidity testing. For other API accredited test work, they can arrange for an accredited lab to perform the complete range of tests.
The various designs of plants may include the following processes featuring McLanahan designed and built equipment:
Sizing – Screening off the unwanted coarse fractions.
Pumping – Transferring slurry from one plant/process to the next, pressuring Cyclones as part of a classification circuit, or in effluent disposal such as pumping thickener underflow.
Desliming – Removing the deleterious <200 mesh (75µm) materials prior to classification.
Classifying – Making sharp separations with Hydrosizers or Cyclones; typically this might be at 40, 70 and 140 mesh.
Scrubbing – Utilizing attrition cells to scrub the surfaces of the particles to improve turbidity.
Dewatering – Applying fine material screws, dewatering screens or separators.
Effluent Management – Thickeners can be built on the ground or paste style for recovery of 85% of process water.
Waste Solids Management – Filter presses to process fine waste solids from thickener underflow into a cake that can be handled by conveyor or front end loader.
Sampling – Belt and slurry sampling can provide timely insight to the process performance.
McLanahan Corp., www.mclanahan.com/products/frac-sand-plants