MSHA Could Immediately Adopt A Simple Policy To Encourage The Development Of Mine Safety And Health Technology.
By Brian Hendrix
In 2019, the mining industry experienced its second lowest annual fatality rate; and injury and illness rates remained low. In 2020, during the global pandemic, the industry does not appear to have lost ground on safety or health.
To maintain and improve, many in the industry are looking to technological solutions. Assistant Secretary of Labor for Mine Safety and Health David Zatezalo, told S&P Global in 2019 that "Enforcement doesn't get it done … It's time for technology to come to the rescue." Unfortunately, as explained in more detail below, enforcement may get in the way of technology as it races to the rescue. MSHA could easily change that.
It's fair to say that industry stakeholders largely agree with Assistant Secretary Zatezalo about the promises and potential benefits of technology. "Technology" is the "application of scientific knowledge for practical purposes."
That sounds simple. However, we all know that the process is not. Developing and acquiring that knowledge, applying it and then actually making it work in the real world is usually complex and difficult, to say the least. Without the right people, incentives, resources, innovative engineering and design work and a whole lot of trial and error, the process will fail. Often, even with all of that, it still fails.
What to Do?
So, what can MSHA do to facilitate this process? From an enforcement standpoint, MSHA may be hostile to the trial and error that is vital to the process. Let's use blind spots on mobile equipment as an example of a hazard that manufacturers, mine operators, etc. are working to address with a range of different technologies.
Haul trucks, like all mobile equipment, have blind spots. Practices, policies, procedures (traffic control plans, rules, etc.) and training mitigate – but don't eliminate – the risks to miners created by those blind spots. Audible warning devices, cameras, proximity detection systems, etc. are all technological means of further mitigating those risks.
When a mine operator installs a new camera or proximity detection system on a haul truck, the operator may not know for certain that it will work as expected or intended. It might not work in certain types of environments or that it isn't rugged enough. It might be too unreliable or complex and time-consuming to maintain. Equipment operators – miners – might essentially reject the device, perhaps because they find it to be annoying, unreliable or difficult to use.
Even with all of that, a mine operator (often working with the vendor, manufacturer, etc.) may still figure out how to make the device work. If not and if the mine operator removes the device, the operator might have a problem with MSHA.
Hypothetical Situation
Take the operator of a surface mine who purchases a new haul truck, loaded with all sorts of options. It is equipped with every bell and whistle you can imagine, including a new proximity detection system. The manufacturer trains the operator's best haul truck drivers and maintenance crew on the new truck.
However, three months after the truck is put into service, everyone agrees that its proximity detection system is poorly designed and completely unreliable. It has yet to make it through a single shift. Everyone at the mine agrees that the haul truck itself is great, but the proximity system is terrible. So, the manufacturer offers to remove the system and reimburse the operator for the cost of that optional feature. The mine operator readily agrees.
Problem solved, right? After all, the mine operator was not legally obligated to purchase the new haul truck with the optional proximity detection system. The operator was free to purchase the new haul truck without the optional proximity detection system. Maybe, maybe not.
When the friendly, neighborhood MSHA inspector arrives for a regular inspection and hears that the system was removed from the haul truck, we don't know how the inspector will react. Will the inspector cite the operator for violating 30 CFR 56.14100, reasoning that the removal of the proximity detection system created an uncorrected defect that affected safety? Or, will the inspector simply encourage the operator to keep at it, to continue working to identify, develop, implement, technological ways to further mitigate the hazards?
The inspector shouldn't cite this operator. Many MSHA inspectors wouldn't. And, if the inspector did cite the operator, the operator could contest and should prevail before the Commission. Nevertheless, the uncertainty of all this is a problem.
Fortunately, MSHA could easily solve this problem with a simple policy on the enforcement of standards like 30 CFR 56.14100 and 57.14100. If, as Assistant Secretary Zatezalo said, it's "time for technology to come to the rescue," it's also time for a policy that keeps MSHA enforcement from hobbling the development of technological advancements in mine safety and health.
---
Ask Husch Blackwell
Q: Are certain employees or employees in certain work settings exempt from wearing a mask?
A: Yes. The CDC recognizes that certain work settings may present safety hazards that prevent employees from wearing masks, such as work environments that expose workers to heat-related illnesses when wearing a mask or to safety hazards caused by masks becoming contaminated or caught in equipment. The CDC also advises that employees should not wear a mask if they have trouble breathing, cannot tolerate wearing it or can't remove it without help. Outdoor workers can limit donning masks to circumstances when physical distancing is not possible.
In addition, the Americans with Disabilities Act requires employers to provide an accommodation to employees who have disabilities that prevent them from wearing a mask. The Equal Employment Opportunity Commission (EEOC) has addressed accommodation requests regarding the inability to wear face masks due to a disability during the pandemic. Employers should engage in the same process for evaluating requests for accommodations arising from disabilities or religious objections that prevent mask usage as they do with other accommodation requests.
In the event of a disability or religious objection, as opposed to merely a social objection, the employer must provide a reasonable accommodation unless the accommodation presents an undue hardship, which is defined as a significant difficulty or expense. Undue hardship encompasses not only financial hardships, but also hardships on co-workers or business operations.
---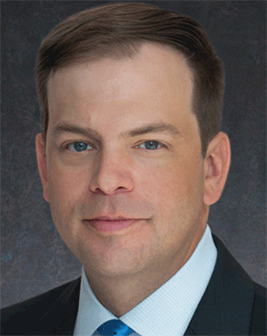 Brian Hendrix is a partner at Husch Blackwell LLP. As a member of the Energy & Natural Resources group, he advises clients on environmental, health and safety law, with a focus on litigation, incident investigations, enforcement defense and regulatory compliance counseling. He can be reached [email protected].