Headquartered in Bardstown, Ky., Haydon Materials LLC and its affiliates is a family-owned aggregates and paving operations company with a long history in the construction materials business. The company specializes in bituminous asphalt production and lay down, along with crushed limestone. Currently, the company owns and operates four limestone quarries, two asphalt plants and one stone distribution yard.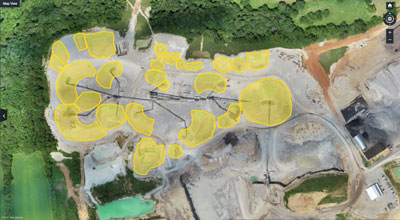 Success of the operation is highly dependent on effective stockpile management – one of the critical steps to quality aggregate production. Like other material companies, Haydon Materials has looked to third-party surveyors to manage and measure stockpiles. With four quarries, the job is a big one that requires continual knowledge and awareness of foundation patterns and distribution processes.
JB Haydon, asset and procurement manager for Haydon Materials explained, "A third-party surveyor doesn't know your operation or the layout of your stockpiles nearly as well as you do. For instance, we know from experience that our stockpile planes are not flat, but an outside surveyor won't know that, creating more work for us when the survey is complete. We wanted a way to conduct surveys on our own."
Flyover Firsts
In January 2019, Haydon tried the Trimble Stratus with Propeller PPK platform along with Propeller AeroPoints for high-precision ground control for stockpile management. As a starting point, Haydon began flying the sensor-enabled drone once a month to gather stock quantities at each of the four quarries.
With AeroPoints on the ground, the Haydon team has a consistent and reliable stock survey every time, eliminating any issues with even or uneven bases. These smart, solar-powered, ground control points with built in GNSS antenna record raw data, which when uploaded to Stratus, are post processed to provide a high-accuracy position.
"It's a very easy process," confirmed Haydon. "I fly the stockpiles and upload for processing. Once I get the data back, usually within a day, I'm ready to measure and compare."
Beyond the Volumes
With the data in hand, Haydon uses the Trimble Stratus monthly and bi-monthly to determine current stockpile volumes and a range of other tasks.
Once he has the stock inventory data formatted, Haydon sends the data to the accounting department to prepare monthly reports. "They can put in production and take out sales," he said. "That's huge. The technology helps us keep a tight and accurate end-of-month inventory reconciliation and reporting. Through this process, we actually started picking up some tons that had been wiped off the board."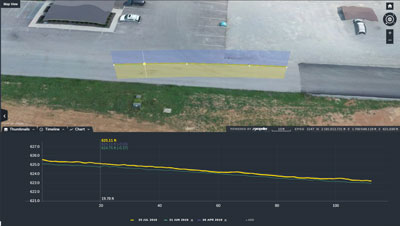 While used primarily for end-of-month stockpile management tasks, Trimble Stratus also helps Haydon and his team to track, map, and measure quarry volumes, check water levels and perform pre- and post-stripping surveys.
Haydon uses the technology to measure and compare cross-sections on active quarries over time. "We use the software to check if we've improved a road or if we want to draw a quick line across a stockpile to see how it's changed," said Haydon.
The comparison tool is also valuable if Haydon wants to perform quick volume calculations of material moved for progress payments and proof-of-site changes and compare historical data with current measurements.
Typically, Haydon will fly an area before and after a contractor moves overburden. The drone and Trimble Stratus combination lets them measure exactly how many yards of material were moved. "Sometimes we'll compare if they're using a different software. So far, everything has lined up together, even with different software, so it's proven the system is accurate," he said.
Safety-Enabled Planning
One unexpected benefit of the drone-enabled survey platform is onsite safety. "When you're doing your survey, you're getting a really great view of your site, so you can see potential hazards and flag them before they even happen," said Haydon.
For instance, a few years ago, Haydon Materials' site experienced a lot of rain, with one particular site sitting on considerable overburden. After flying the quarry, "we could see a crack forming in in the pile from all the water. This area had potential to give out and fall away. This was a major safety concern and was fixed right away. By being able to spot this issue, Haydon was able to mitigate it before it became a problem.
Alongside safety, the company can use the data from Trimble Stratus to improve plant efficiency. "We fly two new plant sites monthly because we're still learning how many tons for each product that these sites are producing. With current data, we can continually improve efficiency and productivity," said Haydon.
The visuals captured in a drone flyover aid mine and quarry planning too. Haydon Materials established the Airport Road Quarry in 2019, which is built to produce 1 million tpy.
"In this case, we're able to fly an entire site, put a layout on it, and show our operations managers how to approach the mine and which direction to go," he explained. "This is better than looking at your site in Google Earth because it's up-to-date. Mine conditions change daily and Google Earth is only updated every few years. If you're going to do a mine plan, I don't know how you would effectively do it in today's times without doing an aerial survey with a drone."
When asked about the value of the technology solution, Haydon concluded, "The system paid for itself in the first year with stockpile management – it's a lot less expensive than a third-party surveyor and the data is more accurate. Everything else is a bonus."
---
Challenge
Annual and bi-annual third-party surveys of stockpile estimates weren't providing the necessary level of detail to prepare quarry end-of-month reports and complete other inventory management tasks to optimize quarry operations.
Solution
Deploy drones and a streamlined cloud-based data management process with:
Trimble Stratus.
Propeller PPK.
Propeller AeroPoints high-precision ground control.
Benefits
Cuts in-field surveying time in half.
Improved mine and quarry planning.
More control over end-of-month reporting and scheduling.
Productive plant operations.