Who Rebuilds a 1948 Crushing Plant? Neil Schmidgall, of course.
By Mark S. Kuhar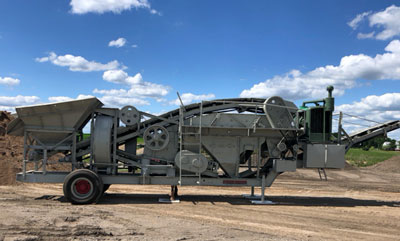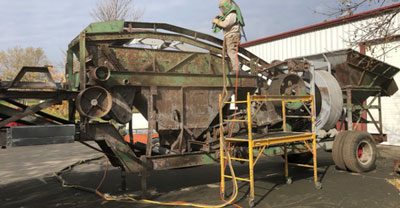 Neil Schmidgall may be well-known as the founder of Superior Machinery Co., the forerunner of Superior Industries, but his interest in heavy equipment has not waned.
He recently rebuilt a 1948 Cedarapids Pitmaster crushing plant just for fun. It was a tough project, but he approached it with the same can-do energy he has always exhibited.
"I spent untold hours cleaning and reworking old parts of the plant," Schmidgall said. "There were some parts I found that worked but most new parts were made to replicate the existing parts. My goal was to put the plant back into operating condition.
"I replaced all the roller chains, most all V-belts and numerous bearings," he said. "The large drive belt was on the plant as was all the conveyor belts. The fuel tank was rusted out so I replaced the bottom of the tank. The battery box was rusted out and I built the new one to match the old one. The Rotavator got all new plates and runs well with no major leaks of sand."
Some repair highlights included:
The cylinders were rusted in place. He removed the cylinder head, radiator assembly and clutch assembly from the flywheel housing.He took the head and block on a skid to Hedahls Auto plus in Milbank, S.D., for rebuilding. It got new sleeves, pistons, valves, valve guides and springs. They ground the crank shaft, new main and rod bearings, new cam bearings and main seals.
He took the radiator to Morris Radiator and had it cooked out and repaired so it was ready to reinstall.
He disassembled the blower off the engine and put a bearing and seal kit in it.
He got a different alternator and mounted it on the unit. He also picked up a different oil filter for the engine.
He took the starter to DJ Electric and had it rebuilt.
He bought new injectors, tachometer and tach drive.
He built a ladder to engine and guard/walkway over the drive pulley and put on a walkway.
Chutes, screen clamp bars, sprockets, bearings, wire cloth, roller chains, V-belts were replaced as needed.
And there were many more repairs made.
"I had to make any new parts needed as there are very few parts left available from the original manufacturer," he said. "I was able to find springs to replace the broken ones. Everything else either was salvaged or hand-made to fit. I copied the old parts to make new ones. The guys at Superior were great help in cutting and bending parts I needed."
He fired up the Detroit Diesel engine on April 27, 2020, and ran the plant. "What a day to see it run," he said. "The plant ran well, only a few minor adjustments were needed. The work was rewarding and the plant will be placed in a good location that people interested in how these old machines run and function can see it in action."