When A Riverboat Was In Distress, Mulzer Crushed Stone's Dredge Crew Quickly Came To The Rescue.
by Therese Dunphy
Good Neighbor: Mulzer Crushed Stone's No. 15 dredge crew.
Beneficiary: The Gambler crew.
---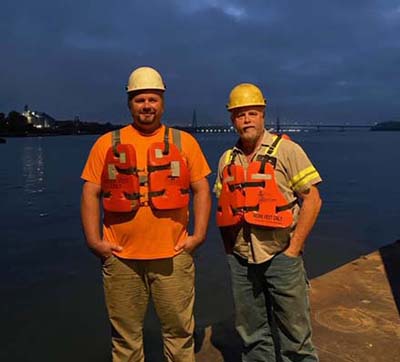 A good neighbor could be described as an operator who makes a conscious effort to positively impact its surrounding community. Under normal circumstances, groups of stakeholders are the focus of community relations efforts that are planned well in advance.
Circumstances were anything but normal, however, in late September when Mulzer Crushed Stone's No. 15 dredge crew noticed odd behavior of a nearby Sternwheeler paddleboat, the Gambler, that signaled potential distress.
"Our crew noticed this boat coming southbound down the river and noticed it wasn't in the channel where it should be," said Matt Bunner, CSP, CMSP, safety manager, Mulzer Crushed Stone Inc., a CRH Company. "Jason Risley noticed that they were starting to turn north to try to get over into the channel. With his river experience, he knew that this wasn't a normal or practiced move."
Maintaining a Safe Waterway
Heavy fog made it difficult to see what was happening from the dredge, so Risley and co-worker Scott Devillez hopped onto its jon boat and cruised down the river to check on it. "By the time they got there, the boat had already totally sunk," Bunner said. What they found instead were two people in the water, one in a life jacket and one holding a life ring and apparently standing on the roof of the sinking boat. "With Jason's training and knowledge, his first question was: 'How many people are we looking for?'" Bunner said.
After learning there was only the crew onboard, Risley and Devillez put their water rescue skills to work, got the boat's owner Gary Lusso, and Co-Captain Mark Heslop, into the boat, and radioed ahead for an ambulance. They then provided first aid and got the two into the ambulance, which transported them to a nearby hospital. Heslop, who had a deep muscle cut on his leg, received 30 stitches. Lusso had bumps and bruises, but otherwise was okay.
The crew of the sunken vessel shared their harrowing experience on social media. "Low freewall at the stern caused the engine room to flood. She went over in a heartbeat," Heslop posted just days after the rescue. "Both of us were in the wheelhouse at the time and were able to help each other climb out. A crew downriver launched their lifeboat and got to us in minutes… Lucky to be alive."
Bunner notes that the dredge was the only vessel in the area with a visual line of sight to where the boat sank. "Nobody would have seen them until the next tow boat came down the Ohio River into that channel region," he said. "It could have been hours."
Training for River Safety
The crew was able to react quickly because it trains for just such an event. Every three years, at minimum, Bunner says the river crew attends "river school," which focuses on water rescue and survival. In the morning, classroom training focuses on practical knowledge relevant to water safety, such as hypothermia. In the afternoon, however, they get hands-on instruction where they practice one-man rescue, two-man rescue, jon boat rescues, and more.
"We actually put a jon boat into the swimming pool and teach employees how to pull someone in and out safely without injuring his back or dragging him over the side where he's getting hurt more by being pulled into the boat," Bunner explained.
Mulzer also uses two videos, Working on or Near the Water from the Mine Safety and Health Administration (MSHA) and another called Minutes to Live. While Bunner said he's not a fan of videos as a general rule, these teach how to fall into the water properly, how to be seen and rescued safely, and how to deal with both high-water and cold-water rescues. "Our guys knew instinctively what they needed for a water rescue," he said.
Afterwards, a meal was thrown in Risley and Devillez' honor. "We give away a safety coin to those who go above and beyond," Bunner said. "They received the coin for their chivalry and bravery. They're pretty humble, but we as a company want to recognize and celebrate when somebody makes that extra effort and utilizes what they've been taught even when they don't have to."
And that is the epitome of a good neighbor.
---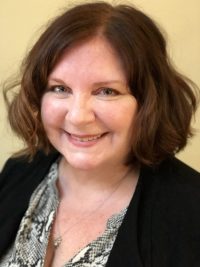 Therese Dunphy has covered the aggregates industry for nearly 30 years, while also serving multiple roles as a public official. As the owner of Stone Age Communications, she provides communications consulting services to help aggregate producers build stronger relationships within the communities they serve. She can be reached at [email protected].