Miners Are Among The Most Likely Workers To Receive An Opioid Prescription, Putting Them At High Risk For Addiction. Hazard Training Can Help Protect Them And Your Operation.
By Therese Dunphy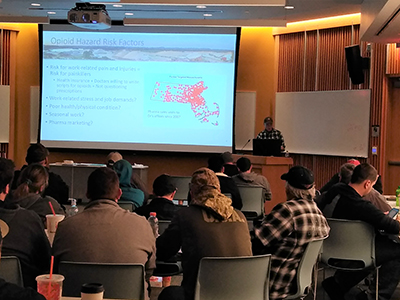 The opioid crisis in the United States makes headlines on a nearly daily basis, including an early November report in The Washington Post regarding the tentative $26 billion settlement reached between four pharmaceutical companies and the 2,500 counties and cities that sued them in what the newspaper describes as "the largest federal court case in American history."
Separately, The Wall Street Journal covered Purdue Pharma's agreement to plead guilty to three felonies related to its marketing and distribution of OxyContin as part of an $8 billion settlement.
And, during the age of COVID-19, the problem is only growing. In late October, the American Medical Association (AMA) reported that "the nation's opioid epidemic has grown into a much more complicated and deadly drug overdose epidemic." AMA indicates that more than 40 states have reported increases in opioid-related mortality.
Opioids Hit Close to Home
Not heralded in these headlines, however, is the impact the opioid crisis is having at aggregate operations across the nation. "National research on the occupations of those who have died of opioid overdoses showed that extraction workers, which includes stone, sand and gravel workers, had the highest rate of death by prescription opioids," explained Cora R. Roelofs, ScD, a research faculty member at the University of Massachusetts Lowell's Center for the Promotion of Health in the New England Workplace. This research is based on analysis of death certificates conducted by the National Institute for Occupational Safety and Health (NIOSH). "While we don't know for sure why that is the case, we know that occupations with the highest injury rates also have the highest rates of overdose," she said.
One reason stone, sand and gravel workers may face higher death rates is that opioids have been increasingly prescribed for workplace injuries common to this group of workers. "Painful workplace injuries have often been treated with long-term, high-dose opioids," said Roelofs, who has studied the impact of opioids in the workplace for the last several years and has developed an opioid awareness training program targeted to the aggregate industry. "Doctors have been sympathetic to workers who want to get back to work despite nagging, painful backs, shoulders, etc. Unfortunately, it's taken a while for providers to understand the consequences of treating workers with opioids."
Hanover, Mass.-based PA Landers Inc. was an early supporter of opioid hazard awareness training for the aggregate industry. "Nearly 74,000 people a year die from opioids – enough to fill up our Patriots stadium. It's ridiculous," said Bob Correia, safety director. "There isn't enough awareness about it to even combat it. People just shrug their shoulders and keep moving."
The company opted for action and adopted the training developed by Roelofs, describing the training as highly relevant to its employees and company. "We have a very strong commitment to safety. We provide new employee and on-going comprehensive safety training for all employees and conduct random and prospective employee drug testing. Many of our employees are also subject to DOT regulations, and we fully comply with all applicable regulations," Correia said. "Since the opioid epidemic has hit our area of Massachusetts very hard, we see this as an opportunity to assure that our employees know our policies, are aware of opioid hazards generally, and can learn about access to prevention and treatment resources."
Industry Challenges
While the Mine Safety and Health Administration (MSHA) does not have the same federal drug testing requirements as the Department of Transportation (DOT) does for its regulated employees, some states do mandate drug testing for the mining sector. In addition, employers have the option to institute a drug-free workplace program. However, it can be difficult to detect opioid use through drug testing.
"Unless the person is a habitual user, then it's most likely not going to show up," Correia said. "Another issue is that, if you can explain why you have opioids in your system to the MRO (medical resource officer), they will call it a negative test. If you have a prescription for it, they will call it negative."
While most company policies require self-reporting if an employee has a performance-impacting prescription – and all opioid-based painkillers are narcotics that could impact safety – many of these employees are hourly workers and may be reluctant to admit to having a prescription if it impacts their paycheck. Others take time off to recuperate from a workplace injury and don't return.
"There were certainly more than a few occasions that someone was out long term and would get hooked on painkillers," said Steven Casey, a retired aggregate industry safety director who served as a trainer for the opioid hazard awareness training program in Massachusetts earlier this year. "A lot of times, they just never came back, and it became a worker's comp settlement."

Training Builds Awareness
As an occupational health and safety researcher, Roelofs recognized that opioids represent a hazard in the aggregates sector. To help prevent opioid-related safety hazards and injuries, including those resulting from addiction, she developed a free, 45-minute opioid hazard awareness training program as part of a research project sponsored by the Alpha Foundation for the Improvement of Mine Safety and Health, Inc. It rolled out across Massachusetts earlier this year and is now available nationwide for use under the health portion of MSHA Part 46 annual refresher training requirements, as well as new miner training.
"We trained more than 800 stone, sand, and gravel miners and contractors in early 2020 as part of their annual refresher training," Roelofs said. "The response to the training module was overwhelmingly positive. Most trainees felt that the training was relevant and that they could apply what they learned. We are hoping that operators across the country adopt this module as part of their training plan for 2021."
In October, the training was also presented at MSHA's Training Resources Applied to Mining (TRAM) Annual Conference for use by MSHA trainers and safety directors across the United States.
Casey led seven opioid hazard awareness training courses earlier this year as part of the Massachusetts program launch. "The opioid issue hit home to me because of my son, who has a long history of addiction," Casey said. "It's impacted me significantly." That experience drew him to sharing the hazard awareness training program with others where he describes participant response to the training as positive.
Hazard Training Highlights
The hazard awareness training program provides an overview of the opioid crisis and its impact within the aggregate industry, then delves into practical approaches to reduce the risk, including education about the risk factors, addiction and how opioids hijack the brain, and prevention and harm reduction.
For example, a focus on equipment ergonomics can reduce the shocks to the body that lead to back pain, while site maintenance prevents the slips, trips, and falls. Either of these injuries can be the trigger for an initial prescription that would elevate the miner's risk, particularly if the prescription is used for more than five days.
"Opioids re-wire the brain. Anybody who takes opioids for a period of time can become dependent so that they feel they can't stop taking them, even if they wanted to," Roelofs said. "Fortunately, there are more effective and less harmful approaches, including prevention of painful injuries and non-opioid treatment strategies."
The training program encourages participants to advocate for themselves during physician visits and provides tips for these visits, such as informing their doctor that they perform safety-sensitive work and seeking alternatives to opioids. It also focuses on eliminating the stigma associated with opioid addiction. "We found that stone, sand, and gravel miners in Massachusetts generally don't have stigmatizing attitudes, such as that people with addictions can never recover," Roelofs said. This is important because stigma can prevent people from seeking help.
Finally, it outlines pathways for treatment and assistance, such as Employee Assistance Programs (EAPs), as well as national and local services. It encourages training participants to leverage the help offered through these programs. "Some employees are reluctant to call for help with a company-sponsored EAP," Casey noted, "but it's a great resource for you and your family. I think this is an important point to stress with miners."
Correia said PA Landers posts information about its EAP on information boards throughout its operations to allow employees to seek help anonymously. "I think it's a big advantage of having a place where they can make a call and get help on their own," he said.
Based on surveys conducted before and after training, Roelofs said that trainees reported an increase in their knowledge about opioids and gained confidence that they could help someone find resources to get help.
"Massachusetts has been hit hard by the opioid epidemic," she said. "I'm proud that this training has helped employees in this sector feel they can play a part in reversing the crisis."
Digital Download
To access a free, 45-minute annual training module, instructor's guide, and participant handout, visit: https://www.uml.edu/Research/CPH-NEW/education-training/Opioid-Awareness/default.aspx.