A proposal to develop an environmentally focused sand and gravel supply operation in Dotsero, Colo., is the first step to bringing a vision of rural residential homes and first-ever commercial services to an expanding community at the eastern mouth of Glenwood Canyon and on the north side of Interstate 70, according to the developers.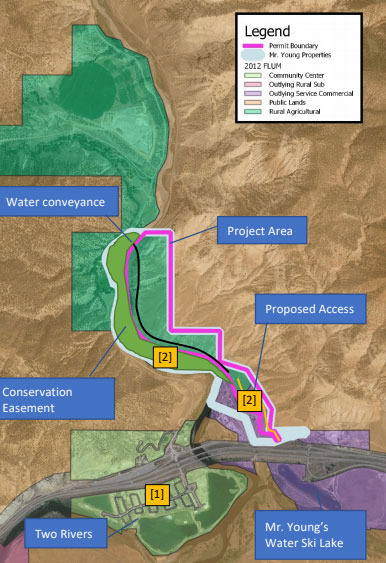 Last year, Rincon Partners LLC acquired 110 acres along the Union Pacific Railroad north of Interstate 70 in the Dotsero area and, after neighborhood outreach, submitted plans to Eagle County to develop that first step.
Specifically, the new operation has been designed to:
Avoid the negative impacts normally associated with gravel mining activities.
Be sensitive to existing rural character and residential uses in the immediate vicinity through thoughtfully designed mining and reclamation plans.
Minimize visual impacts using natural and man-made berms.
Protect air and water quality through aggressive dust suppression, erosion control and revegetation measures.
Preserve and/or prepare much of the site for future uses contemplated under the Rural Agricultural land use designation.
It is an attractive proposal from a locational standpoint and the project has been designed from the ground up to facilitate the larger economic goals and policies of Eagle County in pursuit of a broader and more diversified local economy, Rincon said.
For instance, the presence of mineral deposits in an area such as the Rincon Materials property – easily accessible from major transportation routes and within close proximity to existing community centers and construction job sites – creates a strong potential for local competitive advantages that can only be put to the benefit of the local economy (reducing environmental impacts from transportation, creating efficiencies in production and resultant cost savings that get passed along to developers and end users of construction projects) if those deposits are mined before any other uses such as residential are approved for the land.
Another example of the interrelated regional economic and environmental benefits of providing a high-quality source of construction materials in close proximity to existing construction industries and project sites is the Casey Concrete batch plant operations located a mere 1,700 ft. to the east of the Rincon Materials access road.
Currently, Casey Concrete imports materials (gravel and sand) from areas as far away as Silt, about 40 miles to the west. Providing operators like Casey Concrete with a local source of aggregate in such close proximity should have positive effects on local pricing while significantly reducing environmental and infrastructure impacts associated with transportation.
Importantly, the project design and operations plan integrate the following mitigation strategies aimed at meeting or exceeding the standards of the Eagle County Land Use Regulations and addressing the intent statements of the Rural Agricultural future land use designation:
Avoiding disturbance of existing drainage channels that traverse the site.
Maintaining and bolstering a natural visual berm between the pit areas and the Colorado River/Colorado River Road corridor.
Minimizing active mining areas to no more than 5 to 10 acres at one time.
Requiring concurrent reclamation during mining.
Prohibiting any new land disturbance during summer months.
Using an electric conveyor belt system rather than in-pit hauling by trucks.
Eliminating any concrete or asphalt batch plant operations as part of the SUP.
Avoiding high-visibility activity during the high traffic season for the river corridor (no new stripping Memorial Day to Labor Day).
The proactive and, in some cases, innovative approaches and techniques will greatly reduce typical impacts associated with gravel mining operations in Eagle County. They will also ensure that the county's environmental and general development goals are met and that benefits to the Dotsero area and the larger Eagle County community outweigh any potential impacts, Rincon said.