Chicago Pneumatic Power Technique (CP) has filled the gap in its generator lineup with the re-engineered CPG 150 and brand-new CPG 200. The versatile CPG mobile generator range is designed to meet the tough demands of the construction, oil field and special event industries.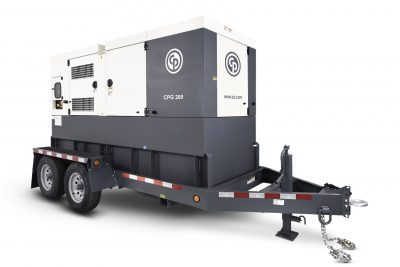 Carrying over the same characteristics of the CPG line, the CPG 150 and CPG 200 offer quality, ease of serviceability, user friendliness and economical operation.
The CPG models are now equipped with a John Deere 6068 Tier 4 Final diesel engine. The CPG 150 has a rated prime power of 150 kVA/120 kW. The QAS 200 delivers a rated prime power of 200 kVA/160 kW. Both units offer dual frequency capabilities.
An AREP alternator excitation system allows for an outstanding starting capability, even on the toughest jobsites. The operator has stable power in less than six seconds in any weather condition.
An internal 335-gal. fuel tank provides power for 44 hours at 75% load on the CPG 150 or 37 hours at 100% load. The CPG 200 operates for 37 hours at 75% load or 28 hours at 100% load. The polyethylene fuel tank provides safe diesel storage while eliminating tank corrosion contaminants from being introduced to the fuel system.
With an integrated fuel water separator and filter, the system is designed to help maintain cleanliness and provide diesel supply to the engine for reliable trouble-free operation.
To provide lower noise emission, reduce fuel use and create a better performance in cold-weather environments, the CPG generators feature a standard variable speed fan. They are also environmentally friendly with 110% fluid containment.
The generators allow flexibility for the operator by matching the machine to the correct applications. This includes two different configurations: the standard dual axle trailer or an optional skid mounted unit with forklift pockets.
To increase safety measures, both of these units were manufactured with an emergency stop. Additionally, a remote signal start and stop allows connection as a critical backup unit via a two-wire dry contact connection in the distribution panel.
Chicago Pneumatic Power Technique Equipment, www.cp.com