In This Quarterly Report, Provided Exclusively to Rock Products, Capstone Headwaters Offers Insight Into Merger & Acquisitions (M&A), Capital Markets Trends, Aggregate Production and Pricing.
By Darin Good, Brian Krehbiel and Crista Gilmore
Public Company Commentary
Trading metrics in the aggregates industry have improved since the onset of the pandemic, with average EBITDA multiples standing at 10.5x. Vulcan Materials and Martin Marietta have continued to trade at premiums over their peers at 16.8x and 15.9x, respectively.
Public Valuation Multiples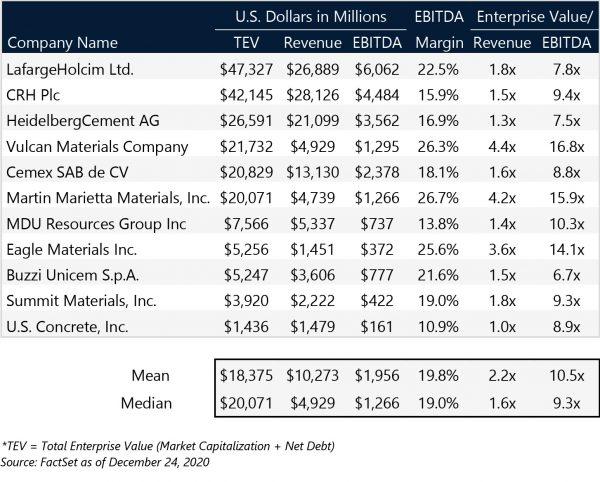 Aggregates Performance
Aggregates Materials Index: +1.0%
S&P 500: +17.0%
Dow Jones Industrial Average: +5.9%
2020 Total Return Comparison
Performance in Capstone's Aggregates Materials Index (AMI) has demonstrated a remarkable recovery with total return amounting to +1.0% following severe declines in mid-March. Continued upward trajectory in the building environment will depend on robust demand for aggregates as economic uncertainty diminishes. Vaccine progress will likely present more favorable conditions for the industry in 2021.
Industry Outlook
Construction activity has demonstrated resilience amid substantial COVID-induced headwinds, providing enhanced visibility for upstream aggregates providers. Following a 12% increase in construction starts in October led by the Nonbuilding segment, November activity modestly fell 2%, according to Dodge Data & Analytics.1 However, industry optimism has been supported by the steady recovery in the Nonresidential sector, which registered a 19% increase in starts, buoyed by a 27% rise in the Commercial sector. Employment in the Construction industry has also continued to improve despite a slowing of project backlog in November. This has been evidenced by the addition of 27,000 net new jobs in November, representing the recovery of 74% of jobs lost during the early stages of the pandemic, according to the Associated Builders and Contractors.2
In addition, inflation in overall commodity prices has trickled down to aggregates, presenting a robust pricing environment for producers supplying construction inputs in 2021. Industry participants have also demonstrated an increased focus on cost containment and margin improvement, often employing innovative technological solutions to drive productivity. Notably, CEMEX Ventures, the venture capital arm of CEMEX, invested $3.25 million in Soil Connect, a digital marketplace for construction professionals to acquire and transport aggregates, soil, and other building materials, according to a press release.3
Furthermore, advances in the digitization of cement plants can be seen in FLSmidth's launch of an artificial intelligence (AI) enabled process control solution (Aggregates Business)4. As AI and advanced technology permeates the industry, aggregates producers will have the ability to leverage data-driven insights to enhance the efficiency of equipment.
M&A activity slowed significantly during the height of the pandemic, with Q2 volume falling 80%. However, as industry participants have regained financial footing, transaction volume has rebounded with YTD Q4 volume exceeding prior year levels with 20 transactions announced or completed. Public companies have been increasingly active, seeking well-performing accretive targets or capitalizing on distressed companies to bolster product lines and distribution channels. Notably, public companies have comprised nearly 53% of transactions in the YTD.
 Quarterly M&A Activity
Private Equity Activity
GF Data Resources, a provider of detailed information on business transactions ranging in size from $10 million to $250 million, provides quarterly data from over 200 private equity firm contributors on the number of completed transactions. The following chart provides the number of completed transactions from GF Data contributors, the average total enterprise value (TEV)/EBITDA multiples, and the average amount of debt utilized in the transaction computed as a multiple of EBITDA. The data, although not industry specific, displayed a resurgence in transaction volume with 50 deals in Q3 compared to 34 in the previous quarter. In addition, debt utilization and availability increased as total debt/EBITDA multiples returned to more normalized levels at 3.7x, slightly below Q3 2019.
Private Equity Valuations & Leverage

Notable Transactions
Chaney Enterprises, LP acquires GreenRock Materials, LLC
(November 2020, Undisclosed)
Chaney Enterprises, a leading ready-mixed concrete, aggregate, custom blends, and related construction supplies provider, has acquired GreenRock Materials for an undisclosed sum. GreenRock is a premier ready-mixed concrete provider in Central Virginia offering residential, commercial, industrial, and municipal and state concrete solutions. The acquisition includes all eight of GreenRock's concrete plants and three affiliated companies: Mid-Atlantic Concrete Pumping, Stony Creek Sand & Gravel, and NSL Transport. Notably, Stone Creek operates two mining operations that provide material to ready mixed, precast and asphalt producers. In addition, NSL adds a fleet of bulk tankers and dump trailers.
The transaction marks Chaney's fourth acquisition in Virginia, having previously acquired three ready-mixed concrete plants, according to a press release.5 "Entering central Virginia's market is a remarkable opportunity for all our current and new team members," commented Francis Chaney III, CEO of Chaney Enterprises in a press release.
Arcosa, Inc. acquires Strata Materials, LLC
(October 2020, $87 Million)
Arcosa has acquired leading recycled aggregates provider Strata Materials for an enterprise value of $87 million, equivalent to 8.5x EBITDA. Texas-based Strata operates through five recycled aggregates locations and one natural aggregates plant, producing more than two million tons of aggregates in the last 12 months, according to a press release.6 The acquisition expands Arcosa's footprint into the Dallas-Fort Worth market and expects the transaction to be accretive to its overall Construction Products Group margin. It also follows its purchase of Cherry Industries (announced in December 2019), a leading natural and recycled aggregates producer ($284.1 million, 7.7x EBITDA).
"Building on the Cherry acquisition we completed in January 2020, we are excited to replicate this model in the Dallas-Ft. Worth region. Strata's strategic network will allow us to serve customers with a complementary product offering that includes both recycled and natural aggregates," said Antonio Carrillo, Arcosa's president and CEO in a press release.
Select Transactions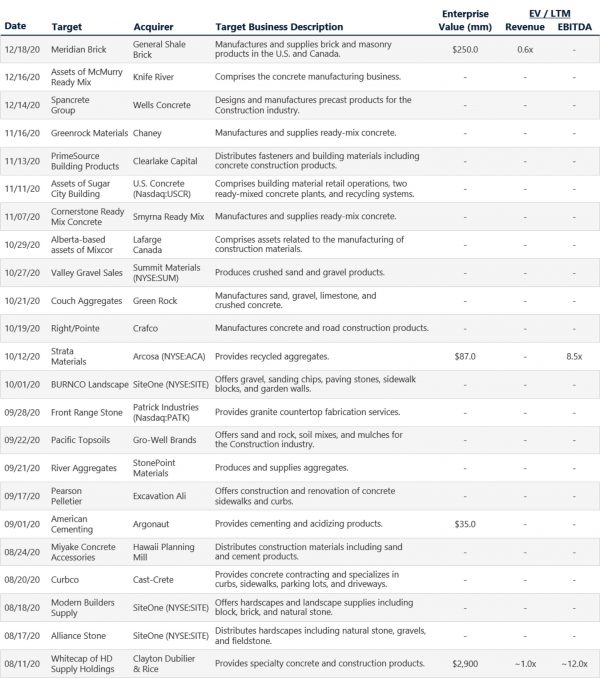 Company Spotlight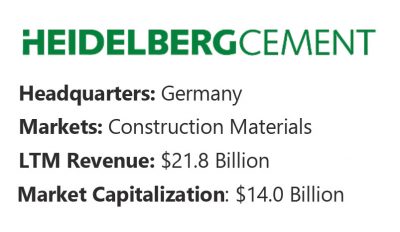 Company Description
HeidelbergCement tactically navigated severe COVID-induced headwinds to construction activity, delivering a nearly 17% year-over-year (YOY) increase in operating EBITDA, according to its earnings release.7 Positive pricing and cost-saving initiatives contributed to the strong operating performance, with demand showing improvement from the prior quarter. While YTD revenues declined 7.9%, Q3 sales modestly trailed the prior year quarter, falling by 3.5%. Through the first nine months of 2020, HeidelbergCement's cement and clinker sales volumes declined by 4.7% in addition to a 5.3% decline in deliveries of aggregates. Sales volumes of ready-mixed concrete experienced deeper declines, with revenue falling by 9.2% to 34.4 million cubic meters. However, deliveries in North America demonstrated a slight increase compared to the previous year.
"As a result of the very strong development of results in the third quarter of 2020, we anticipate that operating EBITDA for the full year 2020 will be above the previous year. HeidelbergCement is very well positioned, even for difficult times. When the economy picks up again and construction activity in our markets returns to normal, we will have very good prospects for sustainable and profitable growth. We will seize the growth opportunities that present themselves," commented Dr. Dominik von Achten, chairman of the managing board.
Following severe declines during the onset of the pandemic, HeidelbergCement's share price has experienced a strong recovery, rising 28% since the start of Q3. In addition, the cement producer generated €2.3 billion in free cash flow, outpacing 2019 levels of €1.6 billion. HeidelbergCement's net debt to EBITDA ratio stands at 2.1x, slightly outside of its long-term target of 1.5x to 2.0x. However, it anticipates strong cash flow in Q4, projecting a leverage ratio of 2.0x or lower.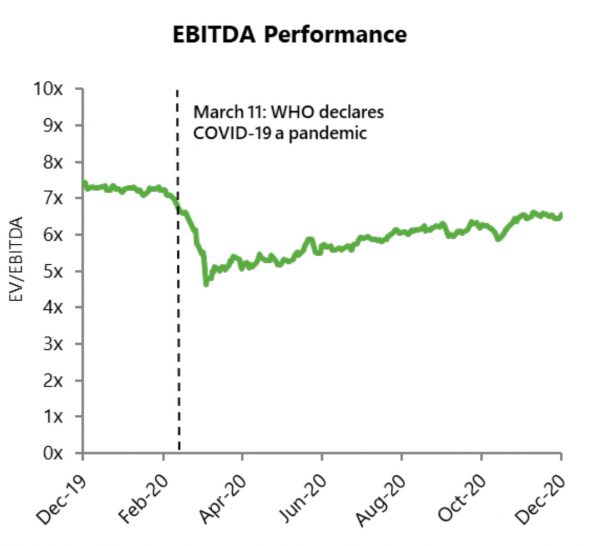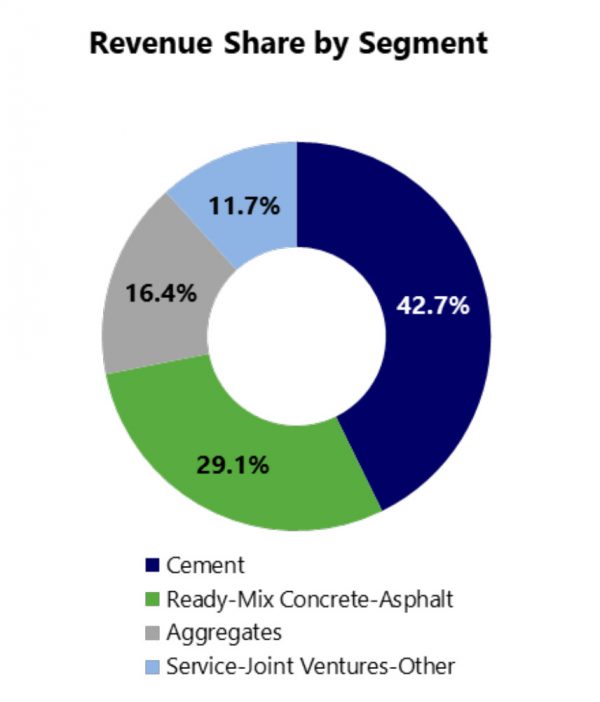 Company Description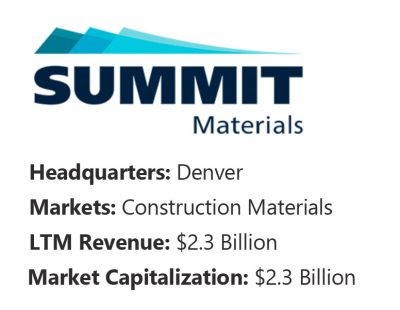 Summit Materials Inc. posted strong Q3 results with a net income of $90.7 million compared to $55.8 million in Q3 of 2019, according to its earnings release.8 While Summit incurred moderate revenue declines, falling 3.1% in Q3, it has achieved a 4.1% increase in EBITDA YTD, which amounted to $354.4 million. Summit's West segment delivered the strongest operating results, experiencing record net revenue and adjusted EBITDA, driven by the heightened demand for the construction of new single-family homes in the region. However, Summit' East segment and Cement segment experienced revenue declines of 11% and 14%, respectively. While Summit experienced most of its cement volume declines in its southern markets, largely due to COVID-19 outbreaks and recent weakness in oil pricing, cement demand remains robust in overall residential construction.
"The headline is that Americans are moving in large numbers to southern and western suburbs and exurbs. Many of the highest growth markets are markets where Summit participates, with leading assets and strong operating companies. This migration requires new single-family homes and ultimately will require new roads, schools, distribution centers and medical centers. All of this new construction will create demand for the aggregates and cement that we supply directly to customers," said Anne Noonan, president, CEO and director in the company's earnings call.9
Summit has continued to utilize M&A to expand its footprint and aggregates distribution channels. Notably, Summit acquired British Columbia-based aggregates producer Valley Gravel in October for an undisclosed sum. The transaction followed its July acquisition of Multisources Sand & Gravel ($92 million). Summit has also demonstrated an improved liquidity position, with its leverage ratio standing at 3.5x net debt to adjusted EBITDA, compared to 4.2x in the prior year.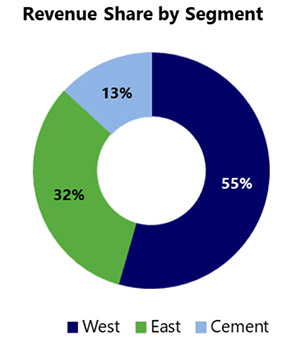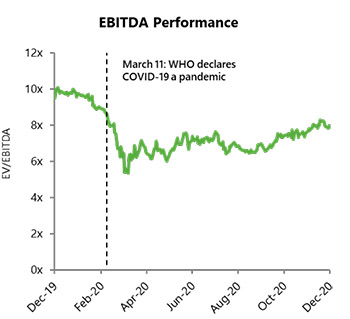 Construction Materials Update
Construction input prices declined 0.5% in November compared to the previous month although prices remain 0.9% higher YOY, according to an Associated Builders and Contractors analysis of data recently released by the U.S. Bureau of Labor Statistics.10 Softwood lumber has placed upward pressure on input prices, rising 37.2% YOY. In addition, concrete pricing has remained modestly elevated with an increase of 1.6% compared to the prior year.
Aggregate Materials Update
Aggregates production has improved since the previous quarter, with ready mix, cement, crushed stone, and sand & gravel experiencing modest gains. However, volume remains lower on a YOY basis. Steady pricing growth has been evidenced by increases among ready mix, asphalt and cement, which rose compared to the prior year.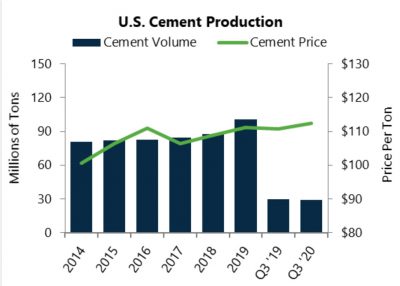 Cement
Portland cement consumption reached 28.9 million metric tons in Q3 2020, representing an increase of 7.4% compared to the previous quarter. Production has fallen slightly YOY, declining 2.7%.
The average net selling price per ton for Martin Marietta and Eagle Materials cement in Q3 amounted to $112.50, rising 1.4% YOY.
Source: U.S. Geological Survey and Capstone Research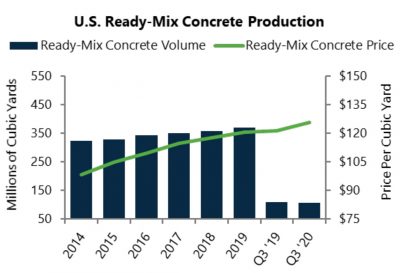 Ready-Mix Concrete
Ready-mix concrete (RMC) prices increased 3.6% YOY in Q3 to $125.90 per cubic yard. Price data is computed from the average RMC net selling prices of U.S. Concrete, Vulcan Materials, Martin Marietta, and Eagle Materials.
Ready-mix concrete volume increased by 7.3% compared to the previous quarter. However, production has fallen 3.6% YOY.
Source: NRMCA Industry Data Survey, Average RMC selling price of U.S. Concrete, Vulcan Materials, Martin Marietta Materials, Eagle Materials, and Capstone Research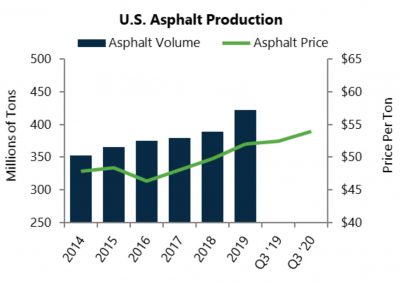 Asphalt
Asphalt prices increased 2.9% YOY to $53.96 per ton, as measured by the average net asphalt selling prices of Vulcan Materials and Martin Marietta. After remaining relatively flat in Q2, asphalt prices increased 3.8% in Q3 from the prior quarter.
Asphalt volume is reported on an annual basis. The most recent asphalt production amounted to nearly 422 million tons in 2019.
Source: NAPA Asphalt Pavement Industry Survey, Vulcan Materials, Martin Marietta Materials average of net asphalt selling prices, and Capstone Research
Crushed Stone
Crushed stone production increased slightly from the previous quarter, rising 3.0% in Q3 to 416 million metric tons. However, production has fallen on a YOY basis by 6.7%.
Crushed stone prices are reported annually.
Source: U.S. Geological Survey and Capstone Research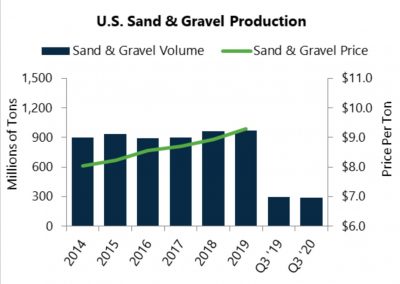 Sand & Gravel
An estimated 290 million metric tons of sand & gravel were produced and shipped for consumption in Q3, representing a 2.7% decrease YOY. However, volume increased in Q3 from the prior quarter, rising 13.7%.
Sand & gravel prices are reported annually.
Source: U.S. Geological Survey and Capstone Research
Capstone's Building Products & Construction Services Team advises industry business owners, entrepreneurs, executives, and investors in the areas of M&A, capital raising, and various special situations. Due to its extensive background and laser focus within the industry, Capstone is uniquely qualified and has an unparalleled track record of successfully representing Building Products & Construction Services companies.
---
CITATIONS
Disclosure: This report is a periodic compilation of certain economic and corporate information, as well as completed and announced merger and acquisition activity. Information contained in this report should not be construed as a recommendation to sell or buy any security. Any reference to or omission of any reference to any company in this report should not be construed as a recommendation to buy, sell or take any other action with respect to any security of any such company. We are not soliciting any action with respect to any security or company based on this report. The report is published solely for the general information of clients and friends of Capstone Headwaters. It does not take into account the particular investment objectives, financial situation or needs of individual recipients. Certain transactions, including those involving early-stage companies, give rise to substantial risk and are not suitable for all investors. This report is based upon information that we consider reliable, but we do not represent that it is accurate or complete, and it should not be relied upon as such. Prediction of future events is inherently subject to both known and unknown risks and other factors that may cause actual results to vary materially. We are under no obligation to update the information contained in this report. Opinions expressed are our present opinions only and are subject to change without notice. Additional information is available upon request. The companies mentioned in this report may be clients of Capstone Headwaters. The decisions to include any company in this report is unrelated in all respects to any service that Capstone Headwaters may provide to such company. This report may not be copied or reproduced in any form, or redistributed without the prior written consent of Capstone Headwaters. The information contained herein should not be construed as legal advice.