Deister Machine Co. offers the latest innovations for maximum productivity in screening and washing circuits.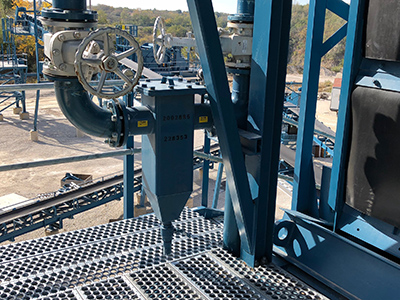 Deister Spray Water Strainer
Producers can eliminate the costly downtime from clogged nozzles and pipes with the new Deister Spray Water Strainer – which maximizes wash screen efficiency and uptime with optimum water flow and sprayer performance.
This new technology is a proven performer especially when spray water contains stone particles, rust flakes, vegetation and other debris.
Installed at the base of the tower, the Deister Spray Water Strainer easily collects and discharges the accumulated solids from the wash screen water system, while providing strained water to multiple wash screens in the circuit.
The result is greater wash plant uptime, optimum water flow and sprayer performance, and maximum water velocity and cleaning action to the screen.
Deister Orbit+ Data Acquisition
Producers can easily test and track screen performance – and ensure maximum screening productivity with the new Deister Orbit+ Mobile App & Wireless Accelerometer.
The portable Orbit+ Wireless Accelerometer is small enough to fit in your pocket and uses powerful magnets to securely attach to the screening unit to provide accurate, high-precision measurements. Turn Orbit+ on and connect to the Mobile App and it's ready to conduct multi- and single-point tests; and log and share results.
Producers can quickly and easily conduct vibration tests; and monitor machine speed, stroke, amplitude, angle of throw, and side motion. They can also view orbit, waveform, and spectrum data; and log test records and maintenance schedules.
Customized Solutions
Deister application engineers work closely with customers to develop customized solutions that meet the toughest specification challenges. Using state-of-the-art design tools and employing rigorous testing prior to shipment, Deister engineers ensure that every screening and/or feeding component is designed to deliver greater efficiency while lowering operating costs per ton.
Deister equipment is American-made and backed with 24/7 parts and service support, as well as a global dealer network.
Deister Machine Co. Inc., www.deistermachine.com