Jason Risley and Scott Devillez from the Mulzer Crushed Stone's Rockport Dry Dock were recently commended for saving two lives. At approximately 12:30 p.m. on Sept. 28, the old historic paddle boat sternwheeler Gambler was heading downriver on a trip from Cincinnati to the Mississippi. It was at Ohio River mile marker #507, close to the Mulzer"s #15 dredge, when Risley noticed the boat was in trouble.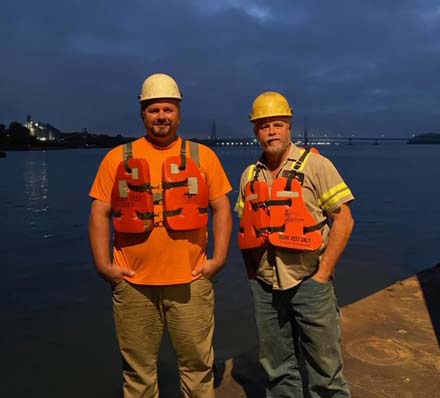 "I started watching it, and something did not look right. We thought we should go check on them because the boat was not positioned right," Risley said.
By the time they jumped in the Jon Boat and reached the Gambler, it had already sunk. Risley and Devillez saw two individuals injured and bleeding in the water where the Gambler went down. Risley said, "My first thought was to ask them 'How many are we looking for?'"
Thankfully, they were able to pull the two seriously injured crew members on board the Jon Boat to safety. Their safety training kicked in, and Risley and Devillez administered emergency first aid procedures and rushed them to the Grandview boat ramp where emergency personnel were waiting to transport them to the hospital.
"One word comes to mind when I think about what Jason and Scott did that day: Amazing," commented Ken Mulzer Jr., president of Mulzer Family of Companies. "We are extremely proud of the quick, life-saving measures they took in a very serious situation on the water."