Syncron announced significant enhancements to the Syncron Service Cloud including Syncron Inventory 20.1 and Price 20.2, the company's newest releases. These solutions help Original Equipment Manufacturers (OEMs) improve financial performance and liquidity, minimize service parts supply chain disruption and retain existing customers.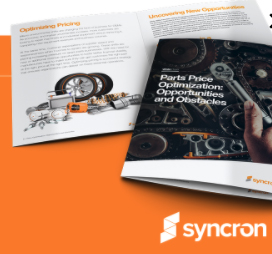 According to a recent study by Deloitte, the operating margin of aftersales businesses is 2.5 times that of new equipment sales. Recent declines in orders for new equipment have driven manufacturers to their aftersales service businesses for relief and opportunities to optimize the performance of this consistently profitable business.
New capabilities announced in the latest Syncron Service Cloud release include:
Connected Inventory. Incorporating IoT data from connected products in Syncron Inventory enables the solution to leverage the understanding of where, how and which products are being used in the field to predict future consumption of parts, components and consumables.
Planned Event Management (PEM). Consumption of service parts can, at a high level, be split into two categories: Unpredictable demand from product or part failures, and predictable demand from planned maintenance or repair events. PEM combines the planning for these two distinct demand streams. It ensures OEMs that the first line of support, like the field technician or dealership, can secure the availability of the required parts for an event without having to keep unnecessary safety stock.
Simulation Center. The Simulation Center provides OEMs with unprecedented and invaluable decision support. OEMs can now take the proposed changes, "travel back in time" and re-run history to see what the outcomes would have been based on the real historical data. You can run several different scenarios and compare the outcomes before approving and putting changes into production.
Syncron Insights. With the risk of volatile demand in current markets, having flexible and dynamic visibility into parts pricing has become increasingly important. Syncron Insights is a powerful new Business Intelligence solution fully integrated with Syncron Price.
Syncron, www.syncron.com