In This Quarterly Report, Provided Exclusively to Rock Products, Capstone Headwaters Provides Insight Into Mergers & Acquisitions (M&A), Capital Markets Trends And Aggregates Production Through The Second Quarter Of 2020.
By Darin Good and Brian Krehbiel
Trading metrics in the aggregates industry have improved since the onset of the pandemic with average EBITDA multiples standing at 9.7x. While valuations remain below early 2020 levels, multiples have increased over 14% since the World Health Organization designated COVID-19 a pandemic on March 11.
Public Valuation Multiples
*TEV = Total Enterprise Value (Market Capitalization + Net Debt)
Source: FactSet as of September 17, 2020
Aggregates Performance
Aggregates Materials Index: -13.4%
S&P 500: +4.2%
Dow Jones Industrial Average: -3.1%
2020 Total Return Comparison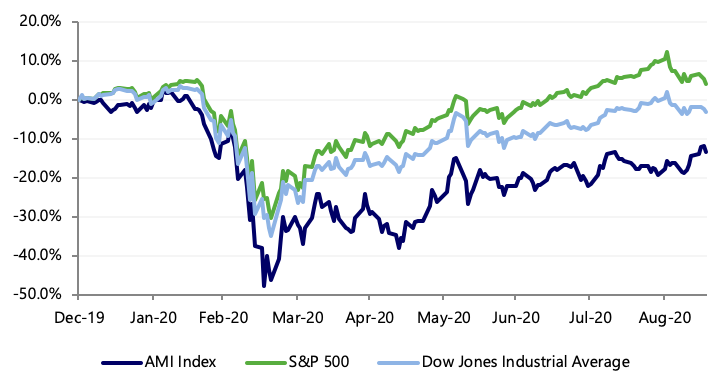 Total return in Capstone's Aggregates Materials Index (AMI) was -13.4% YTD, however, the index has recouped substantial losses suffered in late Q1. Top aggregates operators Vulcan Materials and Martin Marietta have experienced share price increases of 18.4% and 17.4%, respectively, since the start of Q2.
Industry Outlook
Following four consecutive months of decline in construction spending, activity has begun to stabilize with July construction increasing a modest 0.1% from the previous month, according to the U.S. Census Bureau.1 Notably, recent construction starts have recovered substantially, growing 19% month-over-month in August, with nonbuilding construction recording a 40% gain, according to Dodge Data & Analytics.2
While tighter project financing conditions and weakened state and local government finances have presented challenges for aggregates producers, the backlog of activity has remained robust, supporting continued industry demand. This has been evidenced by the Associated Builders and Contractors' (ABC) Construction Backlog Indicator increasing to 8.0 months in August, rising 0.2 months from July.3 Infrastructure projects have experienced the strongest demand with backlog levels rising 0.4% year-over-year (YOY) to 9.6 months.
Effective inventory management, cash collection and cost controls have been imperative amid project uncertainty through YTD 2020 as operators have sought to maintain healthy margins. Sustained optimism in the aggregates industry is buoyed by favorable expectations for sales, staffing levels, and profit margins, with contractors forecasting a near-term expansion over the next six months, according to ABC. In addition, although the FAST Act expired at the end of September, the recently passed one-year extension will address federal funding for infrastructure in the short term, providing at least some confidence to state transportation budgets and large-scale infrastructure projects.
M&A activity has slowed through YTD 2020, with 47 transactions announced or completed compared to 89 transactions in YTD 2019. While volume declined significantly from April through June, buyers have begun to reengage in inorganic growth to bolster product lines and core competencies. SiteOne Landscape Supply has remained an active acquirer with six acquisitions in 2020, including its purchase of leading natural stone supplier Alliance Stone (August, undisclosed). Private equity firms have also displayed a greater interest in the space in recent months, evidenced by Clayton, Dubilier & Rice's acquisition of White Cap (see Notable Transactions).
Monthly M&A Activity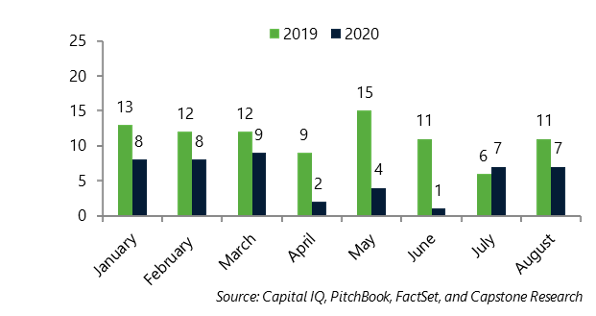 Private Equity Activity
GF Data Resources, a provider of detailed information on business transactions ranging in size from $10 to $250 million, provides quarterly data from over 200 private equity firm contributors on the number of completed transactions. The following chart provides the number of completed transactions from GF Data contributors, the average total enterprise value (TEV)/EBITDA multiples, and the average amount of debt utilized in the transaction computed as a multiple of EBITDA. The data, although not industry specific, displayed a substantial decline in transaction volume compared to the previous quarter, while EBITDA multiples remained resilient. The utilization of debt dropped significantly in Q2, falling well below historic averages at 3.3x.
Private Equity Valuations and Leverage

Source: GF Data®
Notable Transactions
Clayton, Dubilier & Rice LLC to acquire White Cap Business of HD Supply Holdings (August 2020, $2.9 Billion)
Clayton, Dubilier, & Rice (CD&R) has agreed to acquire the White Cap business of HD Supply Holdings for an enterprise value of $2.9 billion and equivalent to approximately 1.0x revenue and 12x EBITDA.4 CD&R plans to combine White Cap with Colorado-based Construction Supply Group (CSG), which is expected to create a $4 billion combined entity. The acquisition of White Cap is expected to close in October and is not conditioned on the closing of CSG. CD&R will hold a 65% ownership interest in the combined company and current shareholders of CSG, led by the Sterling Group, will hold a 35% interest. White Cap is a leading distributor of specialty concrete and masonry accessories to non-residential, residential, and industrial customers, operating across 280 branches with nearly 5,500 employees.
Clayton, Dubilier & Rice is a private investment firm that targets companies with leading market positions, stable cash flows, and differentiated products. It specializes in the consumer & retail, healthcare, industrial, and services industries. The acquisition bolster's White Cap's product and service offerings and creates a leading construction supply distributor in North America.
Summit Materials, Inc. acquires Multisources Sand & Gravel (July 2020, $92 Million)
Summit Materials has acquired leading pure-play aggregates provider Multisources Sand & Gravel for a purchase price of $92 million, according to its earnings presentation.5 Multisources Sand & Gravel primarily serves public customers, which represents 80% of its end market concentration, and 20% of its business is focused in private end markets. The acquisition expands Summit's presence in the Houston market and presents significant synergistic opportunities in its sand & gravel solutions.
"Combined with our existing Alleyton operation in Houston, this acquisition creates the leading aggregate supplier in Houston with a total of 14 plants. The combined entity will have strategic positioning in the North and west of Houston, which are the fastest-growing segments of that metro area," said Thomas Hill, former CEO of Summit Materials in an earnings call.6
Select transactions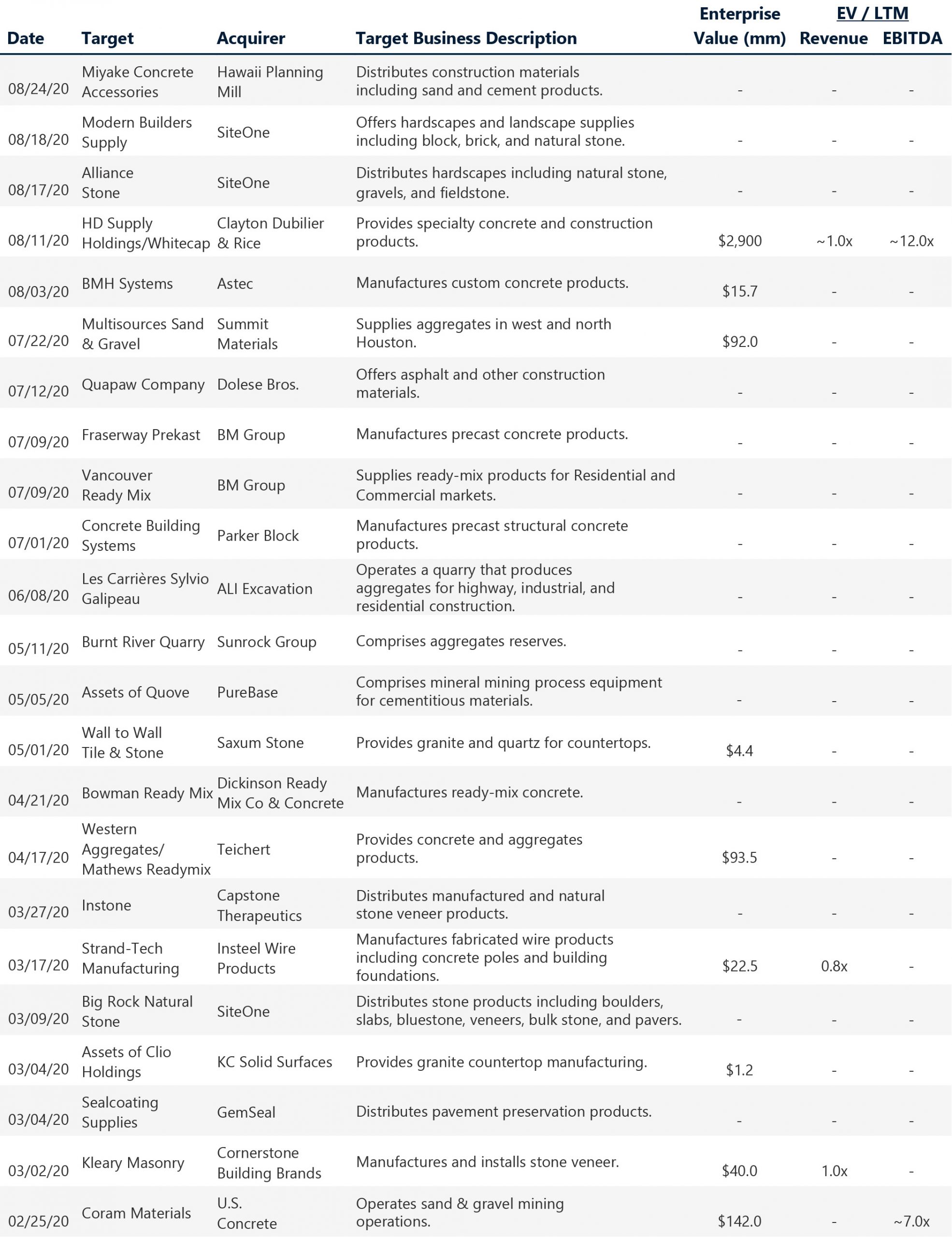 Source: Capital IQ, PitchBook, FactSet, and Capstone Research
Company Spotlight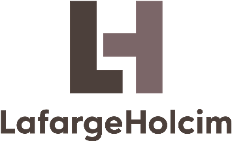 LafargeHolcim combated COVID-19 disruption through early Q2, reflected in its 18.1% decline in net sales YOY, according to its earnings release.7 However, while sales declined through April (-37%) and May (-18%), June experienced a resurgence in activity, with net sales rising 5%, lending to an encouraging outlook for the second half of 2020. In addition, free cash flow has grown substantially YOY, nearly tripling to approximately $540 million, largely due to improvement in inventory management and cash collection through Q2. Trading metrics have rebounded significantly since the onset of the pandemic, with EBITDA multiples rising 45.4% since March 18, approaching yearly highs.
"North America showed the most resilience of all regions despite the prevalence of COVID-19 cases and restrictions in some U.S. states and Canadian provinces. Construction has been deemed as essential in the large majority of our markets. Our customer order backlog remained strong without cancellation of major projects," commented CFO Geraldine J. M. Picaud in an earnings call.8
LafargeHolcim has maintained a healthy balance sheet and anticipates debt leverage below 2.0x to end the year. In addition, LafargeHolcim has focused on enhancing its digital strategy amid the pandemic to drive efficiencies throughout the production and distribution process. Notably, its Concrete Direct application, which manages and tracks concrete orders and deliveries, has seen requests increase by 40% since the lockdowns began, according to a press release.9 LafargeHolcim has also seen strong growth in its Performance and Collaboration Tool (PACT), which helps managers operate cement plants remotely. The platform is currently operational in approximately 100 of its cement plants, an increase from ten in 2019.
EBITDA Performance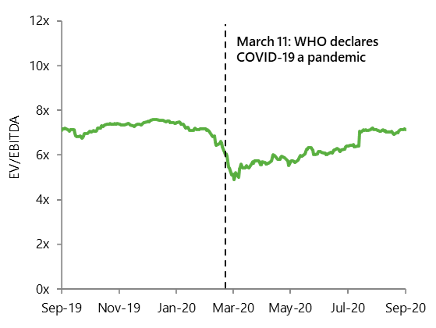 Revenue Share by Segment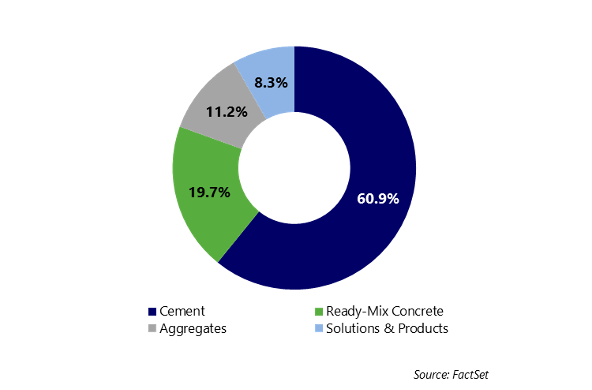 Company Spotlight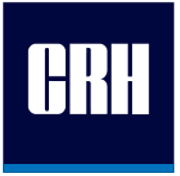 CRH experienced varied performances across its operating segments, with total sales falling to $12.2 billion for the first half of 2020, a like-for-like (LFL) decrease of 3%, according to its earnings presentation.10 Its Americas Materials segment recorded modest sales declines of -1% LFL, while sales in its Europe Materials segment declined by -11%. CRH's Building Products segment managed to generate a LFL increase in sales of 2%, supported by strong demand for repair and maintenance. In addition, CRH generated record operating cash flow of $1.0 billion through the first half of 2020, strengthening its liquidity position and balance sheet. It also drew down on its ~$4.1 billion revolving credit facility amid volatile market conditions. While sales declined significantly in April and May, falling -21% and -9%, respectively, demand rebounded in June with sales rising 3% YOY.
"Generally speaking, U.S. infrastructure works continued. And in some cases, we even saw state DOTs taking advantage of lower traffic volumes to accelerate projects. U.S. residential repair, maintenance, and improvement activity experienced significant growth in demand as shelter-in-place orders were implemented across most states and people were confined to their homes," commented Albert Manifold, CEO and executive director of CRH plc, in an earnings call.11
Since its trough on March 18 when its EBITDA multiple dropped to 5.2x, CRH has rebounded nearly 60%, currently trading at 8.3x as of September 17. In addition, after suffering substantial losses in late Q1, its share price has recovered to trade near 2020 highs. CRH expects third quarter sales to be slightly lower compared to the prior year and has cited a lack of visibility into Q4 and has not provided full year guidance.
EBITDA Performance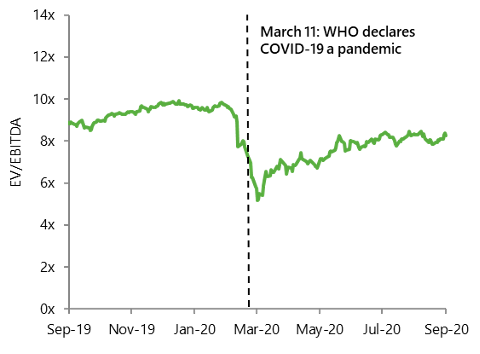 Revenue Share by Segment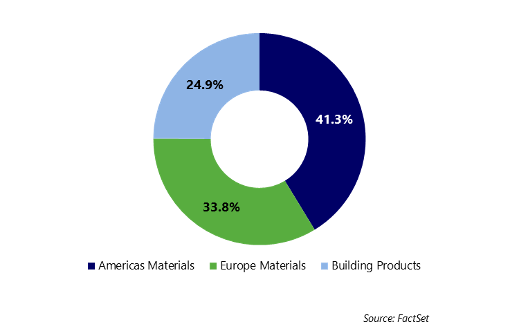 Construction Materials Update
Construction input prices increased 0.6% in August compared to the prior month but have declined 1.3% YOY, according to an Associated Builders and Contractors (ABC) analysis of data recently released by the U.S. Bureau of Labor Statistics.12 Several inputs have experienced substantial swings in prices with crude petroleum falling -33.3% YOY, while softwood lumber has increased 45.0% YOY.
Aggregate Materials Update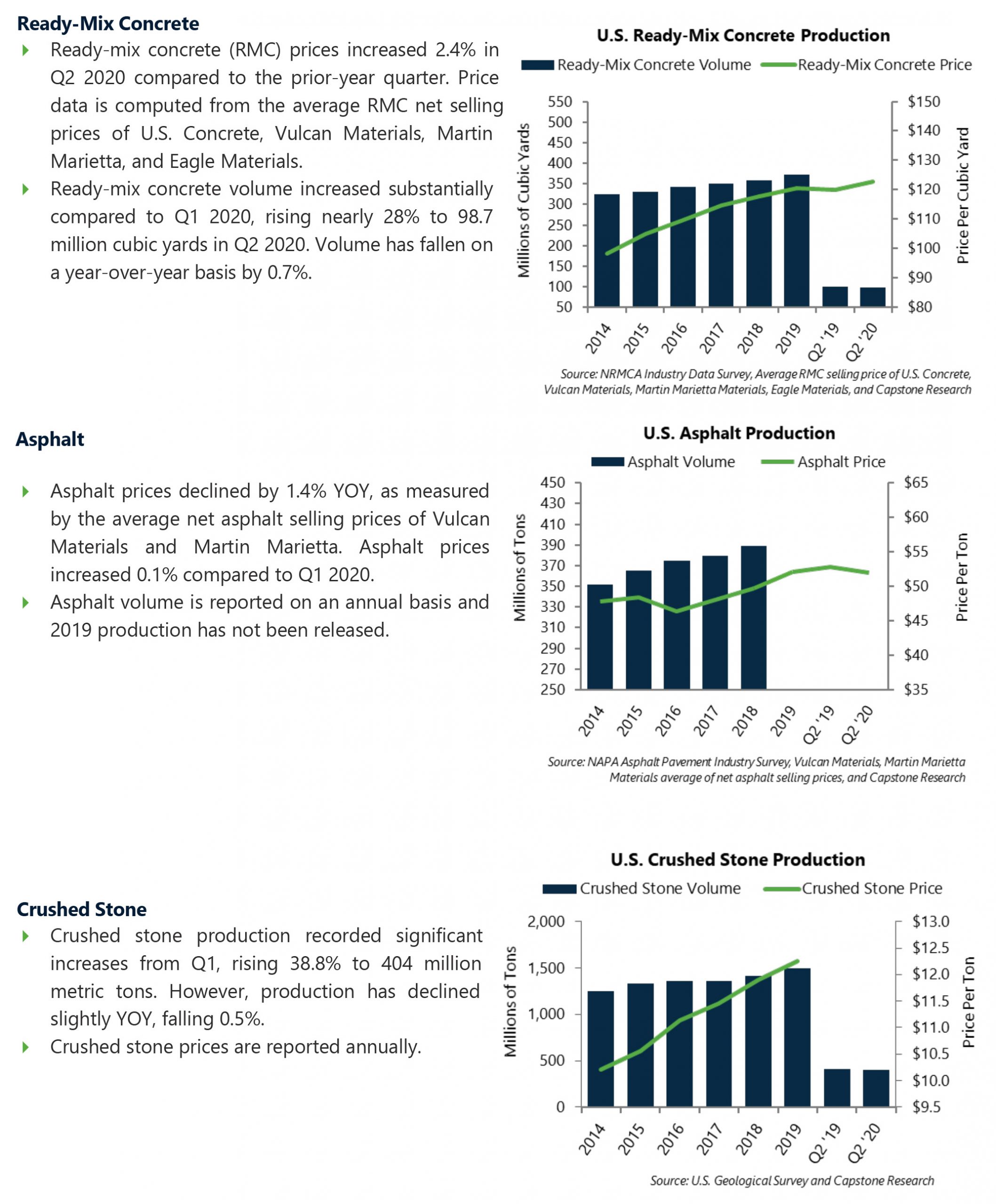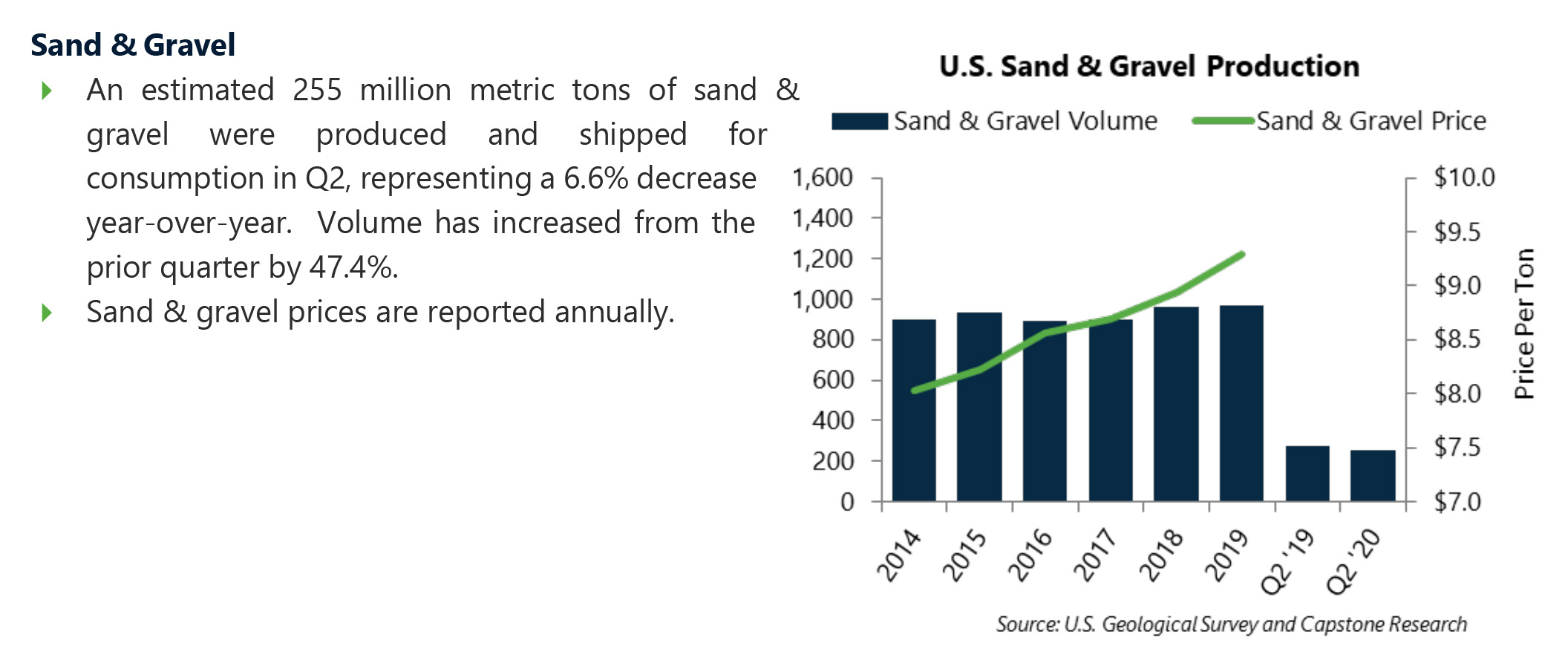 Capstone's Building Products & Construction Services Team advises industry business owners, entrepreneurs, executives, and investors in the areas of M&A, capital raising, and various special situations. Due to its extensive background and laser focus within the industry, Capstone is uniquely qualified and has an unparalleled track record of successfully representing Building Products & Construction Services companies.
CITATIONS
Disclosure: This report is a periodic compilation of certain economic and corporate information, as well as completed and announced merger and acquisi- tion activity. Information contained in this report should not be construed as a recommendation to sell or buy any security. Any reference to or omission of any reference to any company in this report should not be construed as a recommendation to buy, sell or take any other action with respect to any security of any such company. We are not soliciting any action with respect to any security or company based on this report. The report is published solely for the general information of clients and friends of Capstone Headwaters. It does not take into account the particular investment objectives, financial situation or needs of individual recipients. Certain transactions, including those involving early-stage companies, give rise to substantial risk and are not suitable for all investors. This report is based upon information that we consider reliable, but we do not represent that it is accurate or complete, and it should not be relied upon as such. Prediction of future events is inherently subject to both known and unknown risks and other factors that may cause actual results to vary materially. We are under no obligation to update the information contained in this report. Opinions expressed are our present opinions only and are subject to change without notice. Additional information is available upon request. The companies mentioned in this report may be clients of Capstone Headwaters. The decisions to include any company in this report is unrelated in all respects to any service that Capstone Headwaters may provide to such company. This report may not be copied or reproduced in any form or redistributed without the prior written consent of Capstone Headwaters. The information contained herein should not be construed as legal advice.