Production, Performance Telematics And More.
By Mark S. Kuhar and Josephine Patterson
These days, there is much more to consider about loaders than how they scoop up rocks and dump them in a haul truck or primary crusher. Quarry operators are relying more and more on manufacturing innovations such as equipment monitoring, high-tech analysis and actionable intelligence.
"The construction industry is rapidly changing, and technology is a driving factor in this evolution," said Kevin Very, director of technology and product marketing, John Deere Construction & Forestry. "The right technology impacts how a customer bids a job, manages their fleet, assists with operator recruitment and retention, and ultimately improves overall profitability. Technology development is changing the [aggregates] industry, and we are continuing to accelerate our technology innovation across equipment and job sites."
The ConExpo-Con/Agg show earlier this year was a platform not only for new product introductions, but a deep dive into the new technology that is driving forward the performance possibilities of loaders. Here are some of the latest advances from loader manufacturers.
---
CASE
CASE Construction Equipment's SiteWatch telematics platform features an all-new dashboard, more intuitive navigation and new overview sections that spotlight critical information without requiring the user to search extensively for the data. CASE SiteWatch comes standard for three years on all CASE heavy equipment and is available as an aftermarket installation kit throughout the entire CASE equipment line.
SiteWatch complies with the Association of Equipment Management Professionals (AEMP) 2.0 telematics standard, ensuring that the solution is compatible with fleets of all shapes and sizes.
"Telematics data from construction equipment only helps if it's easy to engage with and easy to understand when it's presented to you," said Richie Snyder, product marketing manager for construction equipment digital and precision solutions and telematics, CASE. "The new CASE SiteWatch telematics platform presents users with a high level of critical data on a very clear and intuitive dashboard, and then puts all critical machine and performance data within just a click or two, whether you're at your desk or on your tablet in the field."
The new dashboard features an easy-to-read horizontal menu at the top of the screen above six widgets that focus on core operating information such as an equipment summary, equipment search, engine hour reports and alarm status. An easy dropdown menu makes critical reports on factors such as equipment utilization, fuel consumption and maintenance just a click away, and topline menu buttons take users immediately to fleet and maintenance overviews. Additional reports highlighting specific alerts and fault codes are also available, as well as new visual reports that showcase several CAN parameters for a single machine on the same graph.
SiteWatch telematics help fleets of all sizes work more efficiently in many ways, including:
Simplified fleet

management:

Always know where each machine is, what its working status is and if maintenance or service is required.

Understanding equipment utilization:

Your foreman on one job tells you that he needs to rent a mini excavator, but maybe you have a mini excavator on another job that's not being used? Knowing when and how equipment is being used can improve profitability/total cost of ownership for the equipment you already own, and help you make smarter equipment buying/renting decisions.

Analyzing workload and productivity:

Telematics gives fleet managers and business owners excellent perspective into how equipment is operating, and whether they are getting the most out of their equipment and crew on each project.
Real-time alerts/alarms: Time for an oil change? Engine temps running outside of the preferred operating range? Did a machine move outside of a geofence on a Sunday? Fleet managers and business owners receive alerts in real time to make them aware of machine conditions that require attention.

Partner with dealer on preventive maintenance:

As the equipment owner, CASE believe that you own your data – you can, however, grant your local dealer access to your telematics data to more proactively partner with you on preventive maintenance and other service items, such as planned maintenance scheduling, or monitoring machine parameters and identifying issues that may need addressing.

Improved billing and estimating:

SiteWatch provides users with an accurate historical view into the amount of time/hours each machine is used on each job, which can proactively help you bid and estimate jobs more accurately, and retroactively assist in billing.

Improve record keeping and analysis:

Whether it replaces the old service whiteboard in the shop or simply gives you new perspective into how your equipment is used every day, the reporting menu in SiteWatch presents users with data in a way that is intuitive and brings actionable data to the forefront for more intelligent business decision making and management.
Locate equipment: Not sure which crew has a skid steer, or which jobsite the wheel loader is on? SiteWatch will tell you.
Prevent unauthorized use: The unauthorized use of construction equipment opens its owners up to liability, not to mention the added wear and tear that unauthorized use puts on a machine. Whether geofenced with alerts, or simply identified through retrospective reporting, SiteWatch identifies and alerts equipment owners to the unauthorized use of valuable assets.

Equipment security:

Telematics helps locate stolen equipment – which, if recovered and returned by the authorities, is much less expensive than the resulting downtime and replacement costs.
These are just a few ways that the new SiteWatch telematics platform from CASE helps improve equipment operation.
CASE Construction, www.CaseCE.com
---
Caterpillar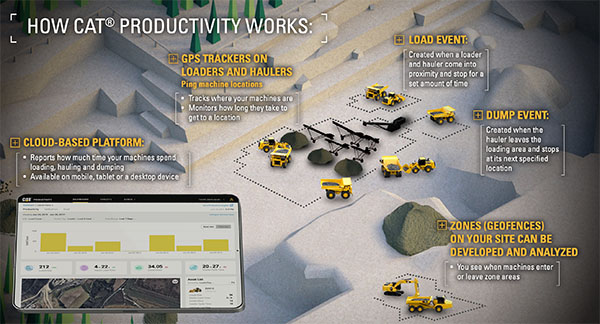 Cat Productivity is an easy-to-implement cloud-based application that provides a complete overview of machine and jobsite production. It is a data-rich tool that delivers consolidated and actionable site-level information to analyze performance, improve productivity and increase profits.
New features communicate and consolidate performance metrics on a single, easy-to-read dashboard, providing quick oversight of multiple jobs. Cat Productivity will provide critical jobsite metrics, such as productivity, utilization and cost.
Cat Productivity provides key equipment performance data needed to draw the full potential out of every asset. Cat Productivity tracks and reports detailed information on what the machine is doing.
Actionable information is accessible wherever the user is, via web browsers on desktops or mobile devices, and includes metrics, such as truck identity, idle time, fuel burn, location, payload, load counts, total cycles and more. The sophisticated analytics provided by Cat Productivity deliver a deeper level of actionable insight, allowing users to dramatically improve machine efficiency, productivity, utilization and reduced per-unit costs.
The latest version of Cat Productivity has expanded to cover a broader range of new and previous-model Cat machines and offers richer data sets when Cat machines are equipped with Cat Production Measurement or Truck Payload Measurement System. In addition, Cat Productivity can now be configured to capture and analyze data from mixed equipment fleets, giving companies better insight into overall jobsite production statistics.
Caterpillar, www.cat.com
---
John Deere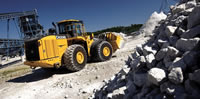 One of the more forward-thinking technology solutions developed by John Deere is the Advanced Rear Object Detection System that is part of the 944K Hybrid Wheel Loader showcase. This is one of the Obstacle Intelligence solutions that helps to supplement the operator's situational awareness by identifying objects in close proximity to the equipment. This technology enables John Deere's automation portfolio and lays the groundwork to further add to job site safety.
Also for the 944K Hybrid Wheel Loader is the SmartWeigh integrated payload-weighing system, which is in development for John Deere's four-wheel-drive loaders (744L, 824L, 844L, 944K Hybrid), which will be available in the near future. Shared through the touchscreen in-cab monitor, the factory-installed system enables operators to accurately load material without interruption and is integrated with JDLink to track and visualize payload data in the JDLink portal and JDLink Mobile. By enabling the operator to quickly weigh and track loads, workflow is maximized and productivity is increased.
"The innovations we're highlighting at the show speak to our commitment to machine and job site automation," said Sean Mairet, product marketing manager, at the show earlier this year. "We're showcasing a portfolio that puts technology to work for our customers and provides solutions matched to customers' needs."
Also from Deere is the SmartAttach system, which will make installing attachments easier in the future by automatically configuring the machine to the attachment. SmartAttach reduces setup time, decreases the likelihood of damage due to incorrect settings and helps customers get the most out of their attachments.
Using SmartAttach, the operator spends less time setting up equipment and can instead focus on the actual job at hand. SmartAttach is integrated with JDLink via a Bluetooth beacon, and together they record the location of attachments and populate that information in the JDLink portal and JDLink Mobile. This allows customers to quickly locate attachments when needed and minimize the number of attachments that are lost.
John Deere, www.JohnDeere.com
---
Doosan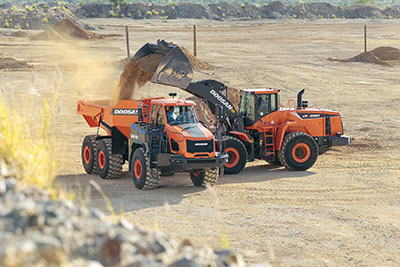 Doosan Infracore North America LLC expanded its wheel loader lineup with the new DL580-5 wheel loader. This machine offers customers a two-pass fill wheel loader for over-the-road, 24-ton capacity trucks, improving operational efficiency and reducing load-out cycle times.
The Doosan DL580-5 wheel loader is designed to serve customers in mining and aggregate work, and it is capable of heavy-duty construction tasks. This model is able to move large amounts of abrasive material while providing operators with comfort and increased uptime. The DL580-5 also serves the operator and owner with its efficiency of offering the two-pass fill and bucket selections that are made to last through harsh material handling tasks.
"This wheel loader pairs efficiency and productivity with operator comfort and gives our machine operators the extra capacity they need to move more material, especially for aggregate work," said Aaron Kleingartner, Doosan Infracore North America product and dealer marketing manager. "This model will be a valued addition to our wheel loader lineup, particularly in aggregate and mining applications."
As mentioned, a key feature of the new DL580-5 wheel loader is its ability to fill a 24-ton, over-the-road truck in just two passes. Also, the wheel loader is equipped with an enhanced front workgroup that features a reinforced Z-bar, a larger profile arm and lift cylinder geometry that work together to improve lifting capacity and performance.
The model also has a larger volume steering pump and cylinders, which help to maintain steering efficiency with larger loaded weights. In addition, Doosan provides a heavier counterweight to offset larger load capacities.
To improve braking efficiency with larger loaded weights, the DL580-5 is designed with heavier front and rear axles with six-disc outboard brakes on each hub. The standard double circuit axle coolers improve durability and proper braking efficiency and protects against overheating of the axle assemblies via active cooling and dual radiators, including sensor based automatic temperature regulations.
Electric steering comes standard on the new DL580-5 and can be adjusted with a left-hand control. The machine is outfitted with lower profile tires on a larger diameter and wider rim for enhanced traction. Like all Doosan wheel loaders, the DL580-5 comes standard with a rearview camera for exceptional visibility.
To pair with the new DL580-5 wheel loader, owners can choose from three new aggregate buckets that can be utilized with this machine to maximize material moving rates. Their SAE heaped capacities include 8, 9 and 10 cu. yd. The new aggregate buckets are designed for use with this new model with the intended purpose of moving large amounts of aggregate material and are built to withstand the abrasive nature of the material.
The three aggregate buckets approved for use with the DL580-5 are constructed of high-strength alloy steel, allowing for an oversized capacity and durability. They provide SAE heaped capacity at 100%; however, the design of the buckets allow for 110% overfill – to account for moisture density of material for wetter substrate.
The buckets also feature a flat-bottom design that improves pile penetration using less forward driving force that provides fuel savings to the operator and owner. As well, the bucket's side profile design features an arch structure that improves material retention with less spillage. Available are full-width coverage bolt-on cutting edges to maximize wear life and an optional internal wear liner for improved wear protection from abrasive materials.
Doosan Infracore North America LLC, DoosanEquipment.com
---
Hitachi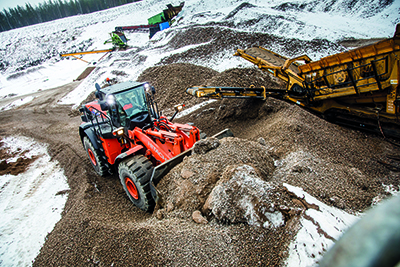 Hitachi Construction Machinery Loaders America Inc. (HCMA) continues to expand its most technologically advanced line of Dash-6 wheel loaders with the large and powerful ZW370-6 developed for high-volume production operations and quarries.
The large Hitachi ZW370-6 wheel loader features 48,780 lb. of breakout force, a bucket capacity range of 7.3 to 8.1 cu. yd., and is powered by a 389-hp Isuzu Tier 4F engine (DPF-free). A spacious cab with 360-degree visibility, ride control and onboard technology provides quick and efficient cycle time even when working with tough materials.
"The ZW370-6 wheel loader is the newest model in our Dash-6 wheel loader line, and it is specifically designed around the needs of North American contractors," said Nathan Little, North American product specialist for HCMA. "Over the past several months, we've been rolling out the Dash-6 line, which will include 13 new models in total. Each come equipped with a diesel aftertreatment system that eliminates the hassle and costs associated with DPF systems and onboard technology to help contractors better manage their fleet and operating expenses. An incredible amount of effort has gone into engineering and developing the Hitachi Dash-6 loader line, and customers in every size category have told us how impressed they are with the results. We're confident large machinery fleet managers will feel the same way about the ZW370-6."
Designed with a full box rear frame for heavy applications and dual Z-Bar linkage that puts less torque on boom arms and gives the machine better balance, the rugged ZW370-6 can handle heavy loads day-after-day, year-after-year. Its reliable performance is complemented by a fuel-efficient Tier 4 engine with a high-volume cooled exhaust gas recirculation (EGR) system, a common rail-type fuel injection system and diesel oxidation catalyst (DOC) instead of a diesel particulate filter. Since the ZW370-6 does not have a DPF filter, there is no DPF regeneration cycles, no expensive DPF filters, no DPF maintenance or regen related downtime, and more space for better access within the engine compartment.
Also, the loader has a lock-up transmission that provides 30% more tractive force than its predecessor, the Kawasaki Z7, and reduces fuel consumption.
The Hitachi ZW370-6 wheel loader's cabin provides optimum comfort and control with a multifunctional monitor, roomy cab with plenty of storage and superior visibility. A smooth ride control minimizes machine pitching on the roughest of terrain, and extra engine output for going uphill can be achieved with the flick of the quick power switch. The low-noise engine and sound insulated cab provide a quiet operating environment. There is also an optional Joystick Steering System available for the ZW370-6 to give operators the option of choosing their preference – steering wheel or fingertip operation.
In addition to featuring the latest in diesel engine and aftertreatment technology, the ZW370-6 also incorporates industry-leading telematics to give fleet managers real-time accurate information at their fingertips. Hitachi Owner's Site and ConSite provide ongoing maintenance and operation data and help alert service technicians when service is required. Using this information, fleet managers can improve the efficiencies of their overall operation and help maximize the performance of their equipment.
Hitachi Wheel Loaders, www.hitachiwheelloaders.us
---
Hyundai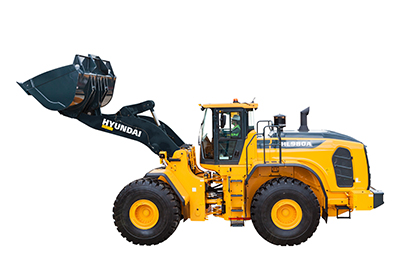 Hyundai Construction Equipment Americas has introduced the integration of new services under the Hyundai Intelligence Care brand. "The expansion and integration of capabilities under the Hyundai Intelligence Care banner demonstrates Hyundai's continued leadership and innovation in service and operation support technologies," said M.S. Kang, president, Hyundai Construction Equipment Americas.
A new service, Hyundai HiCARE, augments the company's long-popular HiMATE remote management application, and establishes a support platform that facilitates both factory and dealer service organizations to provide remote support to their customers.
Hyundai HiCARE functions as a support platform, managed by Hyundai at the HiCARE Center within its corporate office. HiCARE brings together and integrates information from several sources, including warranty data, HiMATE data, oil analysis program results and other engine-connected diagnostics (ECD) reports from Hyundai's collaboration with Cummins.
"Through HiCARE, we can offer fleet monitoring and management services to larger fleet owners," said Stephen Adamczyk, service manager, Hyundai Intelligence Care. "These services include evaluating overall performance and recommending improvements. For example, through HiCARE analyses, we can make suggestions for improving machine utilization and machine optimization. This helps the fleet owner match machines to every job by correct size and production capacity."
HiCARE includes a new capability called HCE-DT Air (Hyundai Construction Equipment Diagnostics Tool). HCE-DT Air is a fully wireless software application that performs diagnostics tests on machines in the field, using handheld devices such as Android or Apple phones, laptops or tablets.
Another HiCARE tool is a capability called SOS. As the name suggests, SOS gives the machine operator a simple way of notifying the Hyundai HiCARE center or the local dealer of a mechanical problem while the machine is on the job. Clicking on the SOS icon on the touchscreen control panel in the operator's cabin sends the alert. The SOS alert includes data about the specific problem that lets the remote maintenance team determine and implement the right solution.
In all the Hyundai Intelligence Care programs, Hyundai complies with AEMP standards for telematics, enabling collaboration and integration with similar services from other manufacturers.
"Safety has always been a foundation of the Hyundai brand and a bedrock value that customers find in Hyundai equipment," said Adamczyk. "A new system under the Hyundai Intelligence Care brand – HiDETECT – introduces some safety capabilities that can greatly reduce the accident rate of a worksite, reduce costs and enhance the operator's efficiency."
Hyundai HiDETECT builds on the capabilities of Hyundai All-Around View Monitoring (AAVM) and Intelligent Moving Object-Detection (IMOD) systems. HiDETECT adds warnings that are relevant to working in confined spaces, on city streets, or in high-traffic areas. It even warns of overhead hazards. HiDETECT prevents the machine from going beyond certain operational limits. The system limits the excavator arc swing in confined spaces, limits digging depth to avoid known buried infrastructure, and limits vertical operations to avoid overhead utilities or other obstacles.
HiDETECT's Rear Detection System automatically warns the operator of nearby people and obstacles. It does this through radar mounted at the bottom of the machine's rear grille. This is similar to object-detection systems found in Hyundai automobiles.
A new option available on Hyundai HX series excavators, Hyundai HiASSIST integrates Trimble machine-control systems into the Hyundai control/monitor cluster. Benefits of HiASSIST include setting of dig-site parameters and achieving more accurate digs. HiASSIST also integrates with HiMATE to add important machine control features to Hyundai's remote-management system.
Hyundai Construction Equipment Americas, www.hceamericas.com
---
Komatsu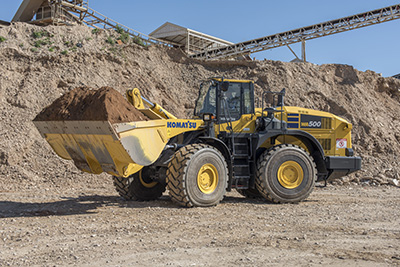 With a newly designed front and rear frame, and loader linkages, the Tier 4 Komatsu WA800-8 wheel loader is designed to load 60- to 100-ton haul trucks in quarry, aggregate and mining applications.
To keep operators comfortable throughout long shifts, the cab has been re-engineered with a 7-in. high resolution monitor, a heated and ventilated air-suspension operator seat, improved access, and enhanced visibility. KomVision with radar obstacle detection provides the operator with a birds-eye view of the working area on a dedicated monitor. Radar obstacle detection provides a visual and audible alert when an object is detected.
Leveraging the power of connected technology, the WA800-8's automatic dig, semi-automatic approach, and semi-automatic dump systems can be used together or separately to automate the work phases when v-cycle loading haul trucks. These systems were designed to help newer loader operators become productive more quickly as well as reduce fatigue for all operators.
The machine's variable traction control system and modulation clutch system provide optimal tractive effort in various ground conditions. The WA800's reinforced z-bar loader linkage provides high breakout force even in the most challenging digging applications.
To reduce total cost of ownership, transmission and axle overhaul intervals on the WA800-8 have been extended.
Komatsu, www.komatsuamerica.com
---
Liebherr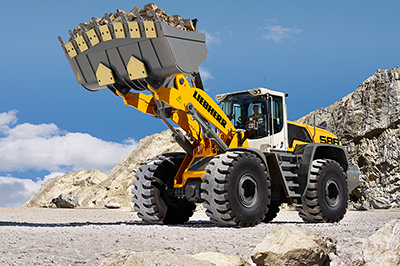 Liebherr presented four wheel loaders to the market at ConExpo-Con/Agg. These include an L 566 XPower, which is equipped with numerous new assistance systems. These include active personnel detection, adaptive working lighting, the integrated tire-pressure monitoring system and a weighing system with Truck Payload Assist. The L 566 XPower also has new joystick steering for wheel loaders.
The largest Liebherr wheel loader, the L 586 XPower, which weighs 71,870 lb. (32,600 kg), comes with a power-split travel drive, which is standard in all large XPower wheel loaders. It combines the hydrostatic drive, which is ideal for short loading cycles with the mechanical drive, the benefits of which come into effect over long distances and up hills. Thus, the power-split XPower drive ensures massive fuel savings and high performance, regardless of the use profile.
The L 538 medium-size wheel loader is equipped with parallel kinematics for high holding forces in the upper lift arms area. This industrial design is suitable for working with heavy attachments, such as with high dump buckets when recycling.
The new assistance systems for Liebherr wheel loaders increase the comfort and safety of day-to-day operation in a variety of ways. They make it possible for machine operators to better concentrate on the work with their Liebherr wheel loader. An innovation, for example, is the active personnel detection at the rear. The system uses automatic alerts on the display and audible signals to signal hazards at the rear of the wheel loader.
A special feature is that the active personnel detection uses sensors to automatically differentiate between people and objects. If a person moves at the rear of the machine, the system alerts the operator. For persons in the hazard zone, it provides a warning at a greater distance than for static objects such as walls or columns. The operator receives a more specific warning in case of imminent danger of personal injury. The assistance system avoids unnecessary warning signals, reducing stress for the machine operator.
At the end of 2020, Liebherr will expand the active personnel detection on large XPower wheel loaders to include a brake assistant. Along with warning signals in the cab, automatic braking provides additional aid for the machine operator. The auxiliary brake function helps to reduce reaction times during braking. This increases safety and reduces the risk of serious accidents.
The new joystick steering for the L 526 to L 586 XPower wheel loaders is an innovative steering system which is an option available to customers. It allows the machine operator to steer comfortably with one hand. Especially in operations involving a large number of steering maneuvers, the joystick steering ensures less effort and more relaxed working as short movements on the ergonomically shaped joystick replace the intensive turning of the steering wheel. A comfortable armrest is always available for the left arm. Also, when changing direction, the left hand remains on the joystick because a switch on the control element allows the travel direction to be changed.
Joystick steering for Liebherr wheel loaders can be operated intuitively. One reason is that the position of the joystick always corresponds to the current articulation angle of the wheel loader. Together with the force feedback on the joystick, the new steering system sets the benchmark in terms of ease of operation when compared to conventional joystick steering. This makes operation of Liebherr wheel loaders with the new joystick steering safe and comfortable even at high speeds and over difficult terrain.
Like most assistance systems, the new joystick steering is also available for the L 526 to L 586 XPower models. In addition, for the models L 566 XPower to L 586 XPower, Liebherr offers the operator's cab in combination with joystick steering without steering wheel and column. In the steering wheel-free version, the spacious cab of the XPower wheel loaders offers the machine operator even more space and an optimized view of the working attachment.
Liebherr, www.liebherr.com
---
Volvo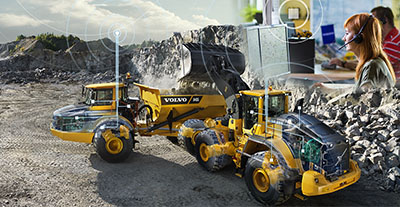 With the rise of onboard telematics and remote connectivity it is easy for fleet managers to become overwhelmed by the mass of data being produced by modern construction machines. With Volvo Construction Equipment's (Volvo CE) unique ActiveCare now set to be offered globally, Volvo proactively takes on the burden of monitoring and reporting machine health, leaving customers more time to focus on their operations. ActiveCare is an intelligent telematics service that bundles together the monitoring of machine health and the provision of weekly reports that together help reduce downtime.
Remote analysis delivers multiple benefits, including catching problems before they become failures and helping smooth service scheduling. By knowing what the problem is, dealer technicians need to make fewer trips to the customer site and arrive with the right tools, parts, and expertise to increase the opportunity for a first visit fix. This all amounts to increased uptime and reduced cost for the customer.
The process is simple: machine data points are captured via CareTrack – Volvo's telematics system – and monitored remotely via machine-to-machine connectivity by Volvo Uptime Centers around the world. Here dedicated Volvo experts who really understand the machines use state-of-the-art diagnostic software to process the information. When a critical alarm or a fault on a machine is detected, the dealer is informed, along with diagnostics information on the fault. The dealer then notifies the customer about the issue and plans when the corrective action can be performed.
Fortunately, critical issues are a rarity, but customers are regularly reassured that their machines are being constantly monitored via weekly Uptime reports. These reports highlight areas of opportunity to increase the availability of an individual machine – or fleet of machines.
The greatest benefit of Volvo ActiveCare and the dedicated Uptime Centers is that a customer no longer has to spend time digging for the insights among a mass of machine information – that's being done on their behalf by Volvo and their Volvo dealer.
This more regular interaction helps Volvo, the dealer, and customers work together to identify actions that can greatly impact one of the biggest drivers of profitability – uptime.
Volvo Construction Equipment, www.volvoce.com