At CalPortland's Santosh Aggregates Plant, A Bucket Wheel Circuit Handles High Flow Rates, Aggregate Loading, Coarse Gradations And More.
By David McAuley and Andrew Snoby
Into its second century, CalPortland (CPC) is the oldest continually producing portland cement company west of the Rocky Mountains. It was founded in 1891 with the opening of the Colton, Calif., plant.
From its early years, CPC has remained a leader in the industry through its commitment to quality unsurpassed, technical superiority and customer service. CPC's reputation for coordinating product transportation and ensuring on-time delivery is considered by many to be the finest in the industry.
Because of this, CPC has been used in some of the largest and most significant construction projects including the Hoover Dam, Los Angeles Aqueduct, Los Angeles City Hall, Staples Center, Arizona Capital Building, Safeco Field and the New Tacoma Narrows Bridge.
CPC has grown into a large diversified company serving six western states and two Canadian provinces. From the largest producer of sand, gravel and quarry rock in the Pacific Northwest supplying the construction industry in Washington and Oregon to as far away as British Columbia and Alaska.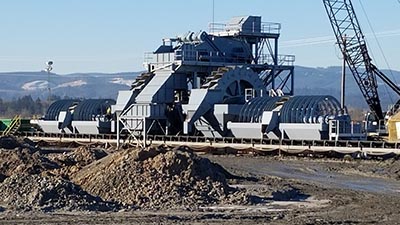 Santosh Aggregates
One recent project was the expansion of the Santosh Aggregates Plant in Scappoose, Ore. A cutter-head, suction dredge was purchased from DSC Dredge LLC, headquartered in Reserve, La. A cutter-head suction dredge is somewhat unique for recovering aggregate in Oregon; it proved to be the right choice for CPC.
The new dredge, a Marlin Class, non-self-propelled transportable Hydraulic Cutter-Suction Dredge, is named "Betsy J" in the honor of Oregon Sen. Betsy Johnson. The dredge is equipped with hydraulic winches on the deck that move the dredge forward, backward and to either side.
Prior to supplying its cutter suction hydraulic dredge to the Santosh site, CPC's operating company Northwest Aggregates Co. used an aging Marion walking dragline, which limited production and was only able to recover 40% of the available reserves. The new dredge has doubled production and can dig 155-ft. deep versus 65-ft. for the dragline.
The new hydraulic dredging system required a method to dewater the sand and gravel slurry so it could be conveyed the two miles to the processing plant. The dewatering system had to handle a nominal load of 1,500 tph at a slurry flow of 18,000 gpm and up to 12-in. rock.
In addition, the system had to retain the fine sand that was historically lost in the dragline operation but would be captured by the dredge. Several options were considered including pumping to dewatering ponds; a circuit of cyclones and dewatering screens; and bucket wheels.
Choosing a Bucket Wheel
The dewatering analysis quickly determined that a bucket wheel system was the best choice. A bucket wheel circuit could handle the high flow rates; aggregate loading; the coarse gradations and capture the plus 200 mesh fine sand – all with minimum horsepower and maintenance.
Since bucket wheels are not widely used in North America, the CPC project team began to investigate bucket wheel options. Several manufacturers were contacted and soon it became evident that Stichweh LLC offered the best solution.
Stichweh is a well-established bucket wheel provider. It offered the largest array of bucket wheel models, had the best experience with providing custom solutions, and had installed significantly more bucket wheels than its competitors.
One of the initial visits to a Stichweh bucket wheel installation was to an Oldcastle company, Arkhola, which had two Stichweh bucket wheels operating on a dredge near Fort Smith, Ark. As the Arkhola operation also had a DSC dredge, it was a natural site visit.
The two Stichweh wheels were installed in 2007; processed 1,500 tph from a slurry of approximately 15,000 gpm. At the time, these wheels had dewatered roughly 10 million tons without the first spare part replacement.
Stichweh was invited to offer a dewatering concept for recovery of 1,500 tph of sand down to 200 mesh from an 18,000 gpm slurry. A twin set of two bucket wheels was recommended based on the receiving the slurry form the underflow of a double-deck scalping screen.
The CPC project team settled on a design where the dredge product would be received in a velocity box, which fed a double-deck Conn-Weld screen, followed by a double set of two bucket wheels.
Unique Design
The double set of bucket wheels consisted of two dredge model "E" bucket wheels positioned to receive the 2-1/2 in. minus screen underflow, and a second pair of fines recovery bucket wheels, model "ES", to accept a portion of the sand feed from the "E" bucket wheels.
It was a unique design to ensure recovery of the 200 mesh fines. The Stichweh bucket wheel controller automatically adjusts to the load (tons) that is being dewatered, which delivers a drier sand to the conveyor and enhances transport. All dewatered products, including the rocks are discharged onto a single conveyor belt.
The aggregate connected horsepower of the bucket wheels is only 110 hp. The annual parts replacement cost has been only $500. Plant production is flexible, and has been able to accept more than 20,000 gpm of slurry.
After more than two years of operation, CPC is pleased with their project selections. They are able to meet a growing customer demand with high-quality aggregates, which fits with their other main product lines of cement and ready mixed concrete. 
David McAuley is construction manager, VP/GM for CalPortland and Andrew Snoby is vice president of operations for Snoby Separation Systems LLC.
---
CalPortland's Santosh Plant
The Santosh facility produces a full range of aggregate products meeting a wide range of product specifications. The facility is a fully automated fractionated plant capable of producing more than 2 million tpy.
The plant produces two washed gravel base products (1-in. to #4), five crushed gravel base products (1 ¼-in. to dust) and concrete sand. These base products are blended to manufacture the final product.
The virtually unlimited flexibility achieved by using the latest in automation techniques is what makes the Santosh Aggregate facility so special. Santosh has a barge loading facility available to load internal barges as well as customer barges.
"We operate four self-unloading hopper barges that supply our internal and external customers throughout SW Washington and the Portland Metropolitan area," the company stated. "The truck scale is set up with Auto-ID equipment. This feature reduces scale time for large projects and regular repeat customers and insures an accurate scale weight on every ticket."